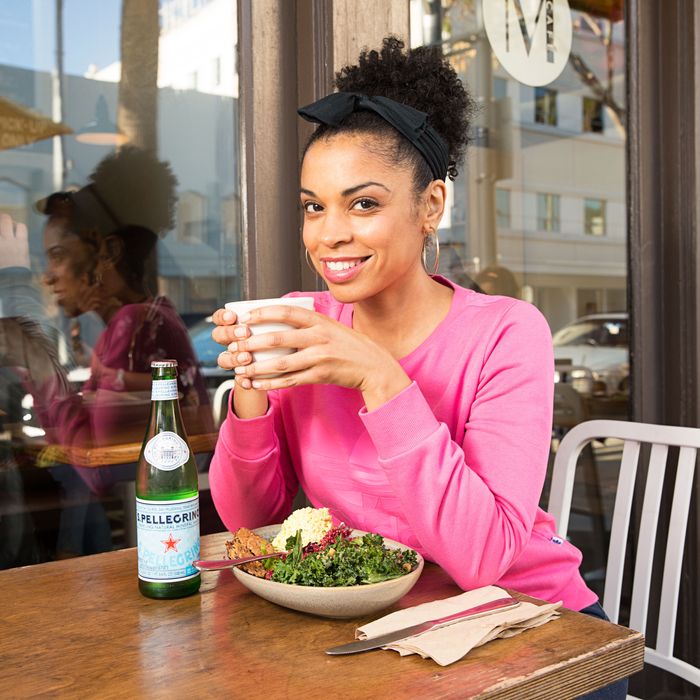 "Everything in moderation."
Photo: Bradley Meinz
If you're not already watching NBC's This Is Us — in which Susan Kelechi Watson plays Beth Pearson — you might recognize her from Louie (as Louis C.K.'s ex-wife, Janet), The Blacklist, or Divorce. For This Is Us, though, the actress recently relocated to Los Angeles, where she's discovered the allure of pricey juice and beet ketchup … as well as In-N-Out. Read all about it, in this week's Grub Street Diet.
Thursday, January 12
I have been staying between two friends' apartments while shooting here in L.A., and they literally live on opposite sides of town. I make my way back across town from Los Feliz early in the morning to Beverly Hills, where a huge fruit plate and homemade pumpkin-spice muffins await me. A friend of my mine made a whole spread for me to celebrate the morning of the Golden Globes, and this is some of the leftovers. So I eat my favorite breakfast: cantaloupe, watermelon, blueberries, and a very good homemade muffin.
Later that day, I am still at my friend's place, so I order from what is becoming my go-to spot for healthy food: M Cafe. I like to eat as healthy as possible, but to be honest, I'm more about balance. Everything in moderation. I decide to get the tuna burger with sweet-potato fries. I love the ketchup too: It's made out of beets and so tasty.
After pilates, I head over to Erewhon on my way back to Los Feliz and pick up a few things, including three of their $1,700 juices. They are really between $9 to $12 each, and well worth it because they are all-natural and fresh-pressed, but the little Brooklyn girl in me is still giving these prices the side eye. I also pick up a kale, sweet potato, and apple salad. I really want an In-N-Out burger, but I stop there instead. So dinner is the salad and one of the fancy juices with apples, oranges, and chia seeds in it.
Friday, January 13
I start the day with instant oatmeal: just rolled oats, dehydrated sugar cane, flaxseed, and sea salt. Another plus — it's easy to make. Just add water. Man, if I could cook everything this easily I might never stop eating. After I nyam off (a Jamaican phrase for eating all of it quickly), I'm still pretty hungry, so I go for the rest of the kale, apple, and sweet potato salad. It's one of those work days where I have the entire morning off, and it feels like I can get a million things done. So I start with emails, phone calls, and going over lines until it's time to head to set.
I figured I would get here around lunchtime, so I had the forethought to call ahead and order lunch, 'cause I think about food a lot. I make my way to a wardrobe fitting first. I really enjoy going to fittings and having a say in what my character wears. It helps so much with the process of continuing to define who Beth is. Then it's back to my trailer where lunch awaits. We don't have catering on set yet, so for now, we've been ordering from the commissary. I'm having the chicken bánh mì sandwich with a side of fruit. I started getting into Vietnamese food when I was doing the musical Marley in Baltimore back in 2015. I opt for water because I am seriously on a quest to drink eight glasses a day again.
As I am in the last scene to shoot for the day, there is a bit of excitement in the air as word spreads that the last hot meal for the day will be pizza. And just as I wrap my scene, the pizzas land and I am able to fight my way through the masses for a veggie slice.
Now mind you, I'm actually headed to dinner with a friend of mine right after I change out of wardrobe, but for me, there is nothing like a pre-dinner snack. Who wants to order food on an empty stomach? It's like grocery shopping hungry and you end up buying enough food for a small village, with the guarantee you throw in a few things you stopped eating in 2005 'cause they look good to you again.
Dinner is at a French restaurant that I dig, Figaro Bistro. My friend and I each decide on a small bowl of mussels, which is actually a very large serving of mussels. Mine is in a cream-and-wine sauce. Really tasty when you sink the table bread into it. Oh, the table bread. Always a good time.

Saturday, January 14
It's Saturday and I have the whole day off! Exciting. I decide to celebrate by doing absolutely nothing. For some reason, I get stuck on Sanford and Son. I turn on the TV, it's there, and it draws me in. Me, my organic oats and flax, Redd Foxx, and Rollo. I'm a comedy connoisseur. Anything from stand-up to sitcoms to single camera. Comedy is a great healer.
By lunchtime, I'm ready to order in. Because I won't be in Los Feliz very long, I haven't gone grocery shopping. I find a cool sushi place online and order an eel, avocado, spicy crab, and tuna roll that was delicious and really freakin' big. I order another roll that I don't like as much, so I compensate with a peanut-butter-and-jelly smoothie. It has organic wild berries, banana, strawberries, peanut butter, sprouted almond milk, cherry concentrate, and blueberry powder.
For dinner, I didn't want anything too heavy and didn't particularly feel like eating out again, so I take a quick browse of my friend's pantry and see all the ingredients I needed for an organic lentil soup. Onions, lentils, celery, potatoes, spinach, green beans, diced tomatoes — just the way I like to prepare it, from a can. Thanks to Amy's Organic canned soups, I'm good to go in about ten minutes. I like to heat my soups on low heat to a simmer, so the flavor doesn't boil out of it. And yes, I have been drinking water throughout the day as evidenced by how many times I've had to leave the couch for a bathroom break.
Sunday, January 15
Once again, my flax oatmeal is on tap. Two packets this morning, so I can grow up big and strong.
But then a twist: As I'm getting ready to head to work out, I get a call from a good friend asking me to meet her at Harvest Moon. I order the "2 by 2:" two eggs over easy, butternut squash, chicken sausage, and a biscuit. We split an orange juice. So it turns out lunch is another breakfast which happens often on a Sunday.
For dinner, I order chicken and waffles from a local diner. I just keep craving breakfast. My plan is to have the waffle with honey and blueberries and save the baked chicken wings for later in the evening, but when I pick up the order, the chicken's fried within an inch of its life, and the waffle's cold, so needless to say, I eat the whole thing.
Monday, January 16
Today I have a very early morning. I'm up at about 3:45 a.m. for a 5:15 a.m. call to set, which is about half an hour away. Usually, I am not hungry that early in the morning, but not today. Once I arrive, I order an egg-white omelet with all the vegetables they have available, with some cheddar cheese and an orange juice. This time we have catering, since we are on location. I have to say, catering is one of my favorite things. There is nothing like having exactly what you want and not having to make it yourself. I'll always be grateful for it.
By midday, which was 8:15 a.m. for me, I'm ready for a snack. I try to make myself a half of a wheat bagel lightly toasted, but I burn myself and drop it on the ground just as they're calling me back to set. One of our P.A.'s takes pity on me and makes the other half with butter and a black English breakfast tea.
By lunch, I've wrapped shooting for the day and head to M Cafe to meet my two girlfriends for lunch. I have the lazy sushi bowl which, loosely translated, is seasoned brown sushi rice, tuna poke, miso yaki salmon, hijiki, sea beans, and mizuna.
I do a little shopping before heading back to my friend's apartment across town. On my way, I realize I can fulfill my In-N-Out burger craving, since it's on the way back to home base. I swing into the drive-through and order a cheeseburger with everything on it and a side of fries. Oh man, it's good. Like the best I've had in a long time. It's hot and fresh and satisfying. Sometimes you just need some meat to sit in your stomach.
Tuesday, January 17
Back to flax oatmeal. I have a bunch of emails and texts to respond to, so I eat and multitask.
After running a few errands, I have about an hour and a half before my next pilates session. I decide to grab an albacore-tuna-salad sandwich (no mayo) on ciabatta bread with local greens and tomato from Comoncy. It's my first time there, and I like that the food is fresh and kind of fancy without being too fancy.
On my way home after an intense pilates session — and an hour before a fitting with my stylists for the TCA Awards tomorrow — I stop by In-N-Out Burger again for a cheeseburger. But only because I still had some leftover fries at home from last night and they needed company.