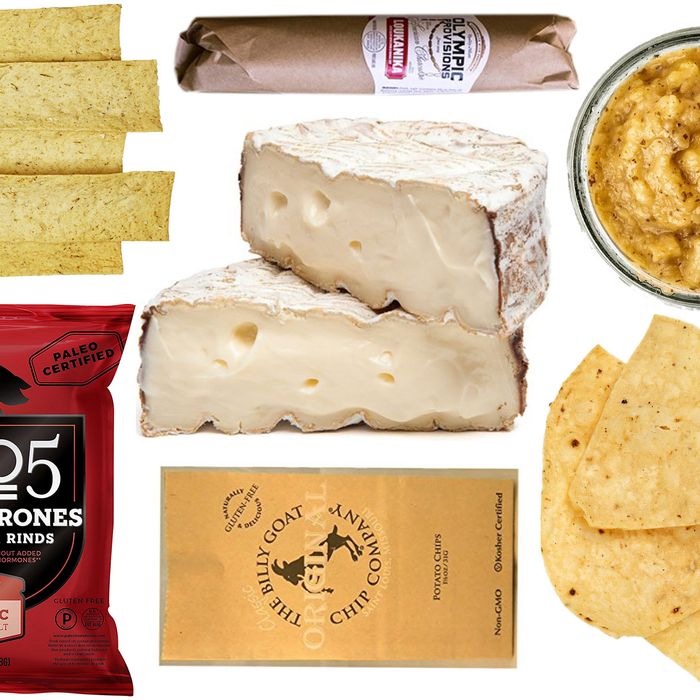 The Super Bowl is this Sunday. Maybe you're actually interested in who's playing. Maybe you're just hosting a party for the wings, or need to bring a snack to curry favor with your host. Whatever the case, you can do better — much better — than just Fritos or, uh, bottled bleu cheese dressing. There are just too many great meats, chips, and other snacks out there not to. Here, 12 snacks that will make your Super Bowl party better:
Created by a former fine-dining chef using a recipe from Tijuana, these chips are made using corn nixtamalized in-house and not oversalted.
Chicharrones are the chips of the pork world. Get yours from San Francisco's 4505 Meats, which peddles its kettle-cooked fried pork rinds in flavors like chili and salt and smokehouse barbecue. This four pack will mean there's plenty for everyone.
What's the Super Bowl without Buffalo chicken wings? (Pointless, arguably.) Supplement your bird with this four pack of chicken jerky, marinated in spicy, zesty, vinegary Buffalo sauce before being slow-smoked.
This Missouri company originally made these potato chips for its St. Louis restaurant, but the chips proved so popular they closed the place down to devote themselves to the snack. They're made skin-on with canola oil, onion, garlic, sugar, and other spices.
Don't resign your veggie-head guests — or yourself — to just dipping celery and carrots in ranch. Get these cashews, roasted and seasoned with a killer combination of lemon and honey.
Chances are artichoke dip is a staple of your Super Bowl routine, and by now you might be looking for something new. Keep the theme going with this tapenade made with artichoke and enhanced by salty, nutty Parmesan.
The Portland company's charcuterie is considered some of America's finest. Go beyond your usual salami repertoire with its version of the Greek sausage loukanika, heavily seasoned with cumin, garlic, and orange zest.
Discourage fighting over your meat spread, at least until it's running low, with Olli's mini-salamis, personal-size versions of its spicy Calabrese, smoked Napoli, porky Norcino, and classic pepperoni sausages.
No offense to perfectly good Carr's, but these are no plain old crackers. They're crunchy and fragrant with garlic and thyme, a nice way to amp up the flavor of the creamy cheese you're also getting.
Vermont-based Jasper Hill is one of America's best cheesemakers. One of their signature cheeses, the Harbison is ideal for sharing: a scoopable, sweet and creamy, and approachably bloomy wheel.
Having a big party? Go for gold and get an entire bresaola, the Italian dry-cured eye round of beef aged with salt and pepper for six months, from one of Brooklyn's premiere meat makers. (Ends Meat ships this via priority mail, which takes one to three business days, so don't wait.)
Balance out all that fat and meat with something sweet, like Roni-Sue's popcorn made with candied espresso beans and single-origin Belizian dark chocolate.
If you buy something through our links, New York may earn an affiliate commission.