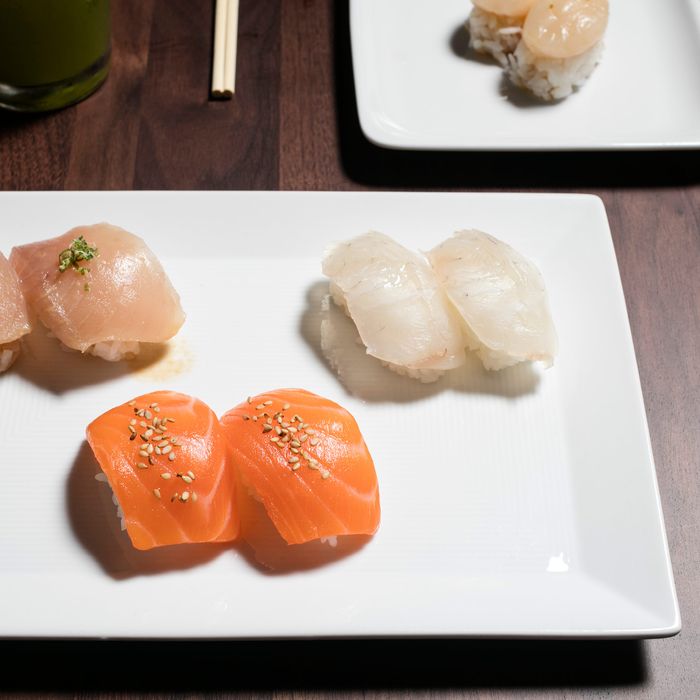 Albacore, salmon, and snapper sushi.
Photo: Melissa Hom
The first time I attempted to secure an evening table at the new Flatiron outpost of the famous L.A. sushi destination Sugarfish (or a spot at the small, eight-seat bar, or even a seat on one of the backless couches in the dim, perpetually overrun waiting alcove), the friendly gatekeepers at the front of the dark, narrow room said the wait would be at least two hours. When I returned at lunchtime on a snowy weekday during the holiday rush, the two hours had barely budged at all to an hour and a half. Which is how I found myself, many weeks later, after several more false starts, finally sitting down at the packed little bar at four o'clock on a gray winter afternoon. Everyone was on their phones, including the gentleman next to me, who was talking loudly to someone in Portuguese. A little farther down, a woman worked two phones and looked up eagerly when her teatime fix of yellowtail and albacore arrived. "I am soooooo addicted!" she said to her server in tones of giddy delight. "We're all so addicted!" he cried.
The legend of Sugarfish's founder, Kazunori Nozawa, and his legions of addicted admirers precedes him to New York, of course. Back in the '80s and '90s, he was one of the originators, with chefs like Masa Takayama, of L.A.'s ascetic omakase school. Like Jiro's famously anonymous establishment inside a random subway station in Tokyo, these stern practitioners operated, for the most part, out of modest little bolt-holes in random strip malls. They frowned on the more ornamental aspects of the Americanized sushi experience (dragon rolls, gouts of soy sauce on everything, actual menus, etc.) and used only the finest ingredients, which they doled out fresh every day to their devoted, high-paying clientele in rigid little set-course omakase bites. Over time, acolytes of this chaste omakase experience spread the gospel to influential non-sushi chefs, like David Chang, who helped launch a generation of effete, boutique tasting rooms across the land.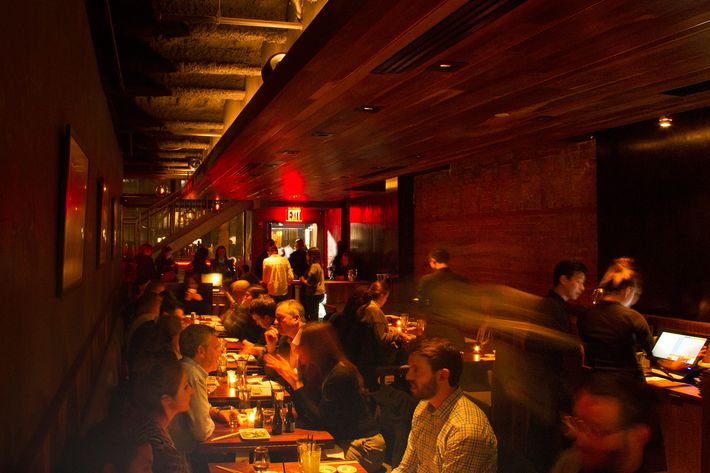 Nozawa's original boutique operation was in Studio City, but as prices soared and fish disappeared from the seas, he looked for ways to democratize his purist vision and bring it to the masses. The answer, with the help of a savvy restaurateur named Jerry Greenberg, was Sugarfish, which began with one small restaurant in Marina del Rey and has turned, in a few short years, into a multi-outlet, L.A.-sushi version of Danny Meyer's Shake Shack. Like Meyer, Nozawa and his partners took a complicated dining process and pared it down to its addictive essence. Instead of the usual parade of confusing, esoteric, ridiculously priced delicacies, they offered a few durably popular, quality favorites (yellowtail, salmon, tuna, shrimp, scallops). The lordly sushi master was replaced by a crew of diligent kitchen serfs in the back who wore Sugarfish-logo caps and turned out the chef's famous omakase options with a practiced, short-order efficiency.
Like at one of those gimmicky sushi-conveyer-belt operations, these dishes are served by twos, on little white plates, with a minimum of fuss or frills, and they cost roughly half what you'd expect to pay for your fix of yellowtail or high-grade tuna belly at one of the grander sushi joints around town. The first thing to pop up before me at the bar, after ritual servings of ginger and wasabi and a slightly weathered-looking helping of "organic" edamame, was some palatable, though obviously prerefrigerated tuna sashimi sprinkled with scallions and a little too much ponzu sauce, and the yellowtail, cut in Nozawa's trademark plump, square slices. The rice under the fish was loose and vinegary and faintly warm, and although the fish wasn't of the highest quality, it was cool and fresh enough, and the combination of the different soft textures made for a nice bite.
This mingling of freshness and texture, with a spritzing of palate-tingling acid, is one of sushi's essential (and, yes, addictive) pleasures, and Nozawa and his team do an admirable job navigating a middle path between the cheap (often fake) deli sushi experience and the increasingly absurdly priced realm of the high-roller omakase. But like a house band running endlessly through the same set of songs, they tend to hit the same numbingly agreeable notes again and again. Most of the components of the iconic $51 "Nozawa Trust Me" omakase, which I gobbled in 15 hectic minutes, between manically checking my own phone and calling for more ginger were notable for their uniform, almost marshmallow texture, which in many cases masked any semblance of real flavor. The sesame-speckled salmon was remarkable for its pleasing appearance, and like the yellowtail and the precut toro sushi, the albacore had an admirably smooth texture, although once you worked through the garnish of scallions and the buzzy dose of ponzu, it tasted of nothing at all.
It's possible to stray from these stolid omakase options at Sugarfish, but in sushi, as in life, you generally get what you pay for. When I returned on another afternoon (after a three-hour wait) with a sushi-aristocrat friend who remembered being glowered at by a cranky Nozawa back at the original restaurant in Studio City, we sampled some pale, weirdly desalinated salmon eggs and several bites of what the aristocrat classified as "grade C" tuna belly. All the items on the meager "specials when available" section of the menu were gone, except for some Santa Barbara uni, which had the consistency of watery, artisanal toothpaste. The pearly sweet shrimp was the best of these slim à la carte options, we both agreed, along with one or two of Nozawa's famous hand rolls, which now have their own restaurant in L.A. Order them rolled, and not sliced in pieces, however, to avoid the softness of the rice and your chopped toro (or scallops, or cooked lobster) blending on the plate into what the aristocrat described as "a gentle mush."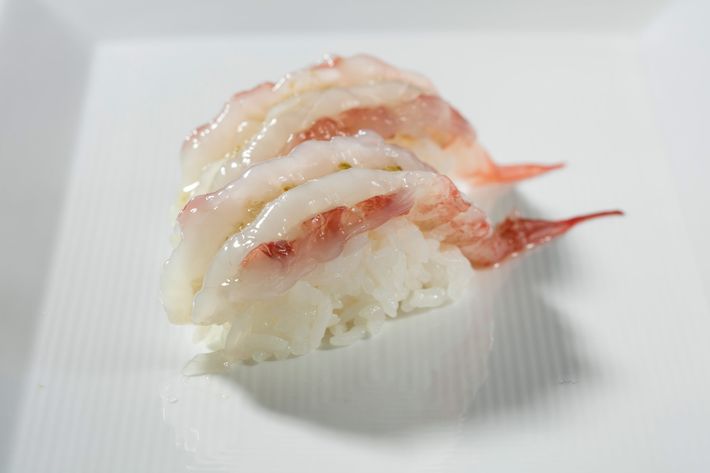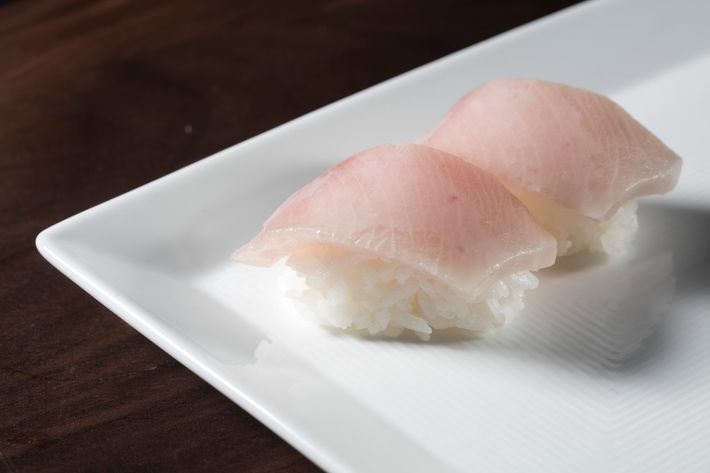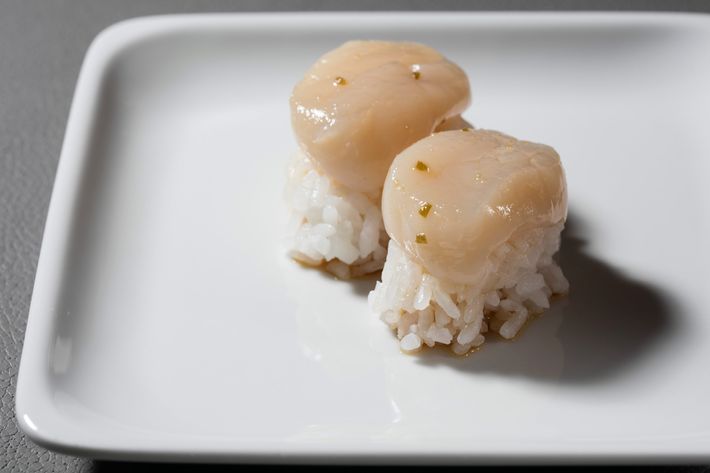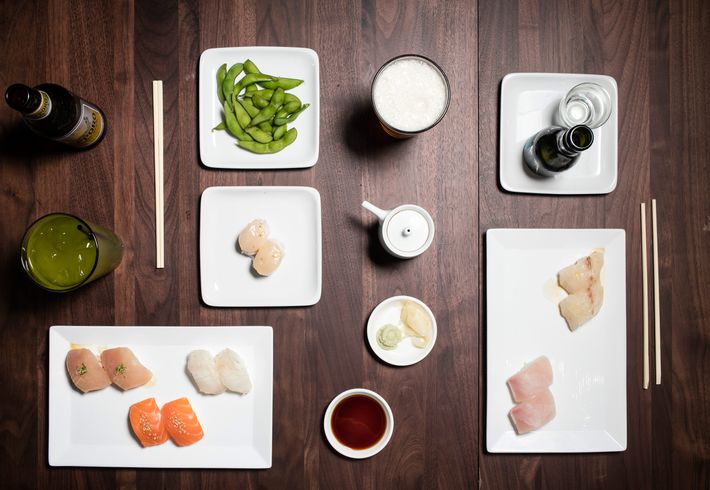 Sugarfish
33 E. 20th St., nr. Broadway; 347-705-8100; sugarfishsushi.com
Ideal Meal: "The Nozawa Trust Me" set-course menu, with sweet shrimp, large scallops, and a cucumber hand roll on the side.
Note: Late lunch is by far the easiest time to get a seat, although the best option of all is carryout, which should be up and running in a few weeks.
Open: Lunch and dinner daily.
Prices: Set menu, $27 to $51; à la carte, $5.25 to $16.
Scratchpad: One star for the clean, uncluttered conception and another for the prices. Minus a star for the dining experience, the ridiculous wait, and the middling range and quality of the fish.
*A version of this article appears in the February 6, 2017, issue of New York Magazine.