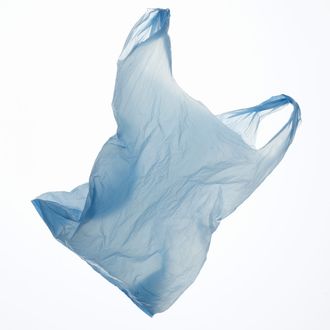 Fly free while you still can, little guy.
Photo: Stephen Stickler/Getty Images
Opponents of New York's plastic-bag fee are taking one last stab at derailing the change before it rolls out February 15. New York bipartisanship is all but dead nowadays, but one way to unite Republicans and Democrats is apparently to impose a five-cent citywide fee on their grocery bags. Yesterday, state senators passed a bill 42 to 18 prohibiting "any tax, fee, or local charge on carry-out merchandise bags in cities having a population of one million or more." Of course, that plural cities part is sort of a joke because Buffalo is the state's second largest, and its current population is 258,959.

The reason for the wording is actually so that if signed into law, the bill won't invalidate other bag fees already on the books, like ones in Long Beach or Suffolk County. The bill's sponsor, Brooklyn Democrat Simcha Felder, explains that New York City families have problems "just getting by, paying for groceries, rent, and heat," and that this nickel surcharge — which breezed through City Council, and applies to each individual bag, both paper and plastic, but not to restaurant takeout — is an attempt to "shake them down every time they shop."
For the last-ditch torpedoing to work, the Democrat-controlled Assembly would have to vote in favor of the bill; then Governor Cuomo would have to sign it. Brad Lander, a pro-fee City Council member, tells the Times he can't imagine why Assembly Democrats would help Republicans "overturn a democratically adopted law to reduce plastic waste." Backers of the fee can probably take solace in the fact that Assembly Speaker Carl Heastie wouldn't say when, or if, they'll take up the legislation when asked by reporters, and Cuomo's office has so far declined to "discuss the governor's position."