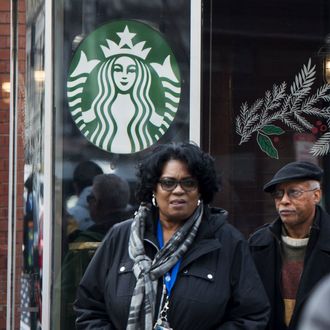 Better luck next time?
Photo: Saul Loeb/AFP/Getty Images
Starbucks just posted some pretty disappointing earnings for the first fiscal quarter of 2017. Sales growth for that period was the worst it's been since 2009, in fact, and the chain says the reason is people are leaving stores without buying anything. President Kevin Johnson acknowledged on yesterday's earnings call that they have too many app users, and it's backfiring by creating "congestion" at the bar, where drinks are picked up. It's the downside of tech created to make buying lattes totally effortless — customers are having no trouble using the app (mobile orders now account for more than 20 percent of the peak-hours transactions at 1,200 stores), but stores are failing to effectively manage the deluge that's come as a result:
Johnson says there aren't big crowds at the register, because that's the part mobile users get to skip. But backups at the bar mean customers walk in, see a throng of uncaffeinated people, and either (a) get the false impression the line to order is very long, or (b) leave wondering why baristas were so slow cranking out drinks. Neither is good for sales. Howard Schultz says the issue has "created anxiety" for some customers, but adds that Starbucks is now "laser-focused on fixing this problem." He also noted that in the Long List of Big Starbucks Problems, "too much demand" is an operational challenge he'll take any day.