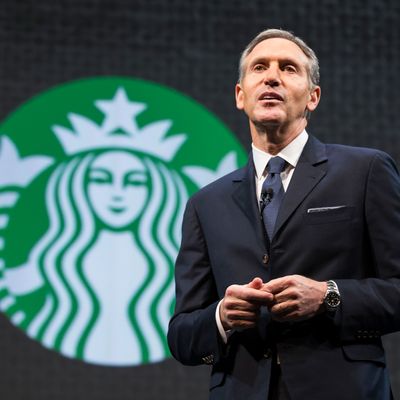 The statement was attributed to Howard Schultz.
Photo: Stephen Brashear/Getty Images
Starbucks CEO Howard Schultz has never been shy about sharing his politics. On Sunday, Schultz responded to President Donald Trump's executive order banning refugees and citizens of seven majority-Muslim nations from entering the United States. The ban was immediately met with protests across the country, criticism from members of both political parties, and backlash from veterans. In a public statement addressing the company's employees, Schultz announced that Starbucks has committed to developing plans to hire 10,000 refugees in every one of the 75 countries where it operates.
The hiring of these refugees will be done over the next five years, beginning in the United States with a focus on refugees who served with American troops as interpreters and support personnel during wars. (Iraqi interpreters who were targeted for assisting Americans were among those detained at airports because of the executive order.) Along with this hiring initiative, Schultz says Starbucks has been in contact with employees affected by the ban, reiterates the company's support for the Deferred Action for Childhood Arrivals, and says it will donate 4 million coffee trees to Mexican farmers this year.