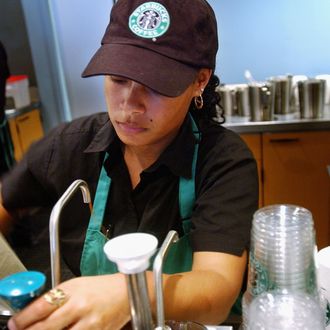 Some new perks of the job.
Photo: Stephen Chernin/Getty Images
Starbucks is getting serious about working-mom benefits. According to the AP, its partners got a note yesterday outlining corporate's new parental-leave policy, and it is considerably upgraded. The chain currently offers maternity leave that isn't horrible, at least by American employers' standards: Mothers can take six weeks off at 67 percent of their average pay. But starting October 1, Starbucks is increasing that to six weeks off at 100 percent of pay. Moms also get up to 12 weeks of unpaid leave, if they want. To be eligible, baristas have to work a minimum of 20 hours per week.
Additionally, for the first time Starbucks is also extending leave to "non-birth parents" — fathers, one or both members of same-sex couples, and adoptive parents. They're entitled to up to 12 weeks off, unpaid. Starbucks incoming CEO Kevin Johnson says it's "one of many steps we are actively taking to evolve our benefits," and perhaps another way of stressing they're still making amends after last summer's near-mutiny by baristas who accused the chain of "killing morale." The company has since responded by raising pay, ending so-called "clopenings," and relaxing the dress code. Corporate no doubt also hopes a robust benefits package makes a coffee job look more desirable in the industry's very tight job market. For example, Chobani now offers both genders six weeks parental leave at full pay, but the ability to come back to work with purple hair? That's got to give Starbucks a serious edge.