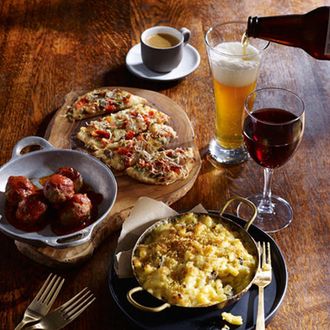 So long, goat cheese flatbread.
Photo: Starbucks
Last call for that Argentine malbec alongside your … petite vanilla-bean scone. The 400-plus locations that currently offer Starbucks' once heavily promoted beer- and wine-fueled tapas menu will go back to being normal Starbucks locations tomorrow, the company tells the Seattle Times. The so-called "Evenings" program was Starbucks' way of appealing to the happy-hour and cheap-date crowds with a mediocre wine list, a variety of cold microbrews, and small plates like truffle macaroni and cheese. At one point, the chain's goal was to expand it to a quarter of all U.S. stores by 2020.
Like pretty much all of Starbucks' other grandiose ideas, though, this plan didn't quite work out. Officially, the chain explains it's refocusing energy on the new higher-end Reserve stores, so the "traditional" cafés' food offerings will be quotidian "lunchtime" items from here on out (i.e., even more fast-food-y). The last after-work bottle of wine will be sold Tuesday, although a few non-franchised stores will apparently be allowed to keep selling booze the same way Barnes & Noble locations sell random soups and pizza.
Grub predicted the business dangers of booze at the 'Bucks in 2014, right after the chain announced plans to roll it out in "thousands" more stores, noting its commissary-prepared fare would have to compete against more legit food at upscale wine joints, that the plan could cause zoning-ordinance issues, and also that it'd mean the same absolutely terrible Starbucks customers in line, only now with the ability to be totally blotto. The company says the new plan isn't to nix beer, wine, and spirits entirely, but to integrate them into the fancier new stores, which technically already employ mixologists.