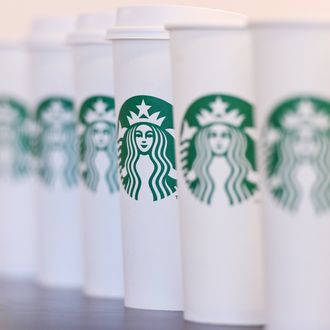 Definitely more diverse than these cups.
Photo: Ben Pruchnie/Getty Images
Starbucks has announced a big change is coming to its board of directors, and the result will be a feat few companies that value diversity can claim. As Andrew Ross Sorkin points out in the Times today, by adding three new members (and allowing the oldest white one, James Shennan Jr., to retire), the chain is creating "what will be among the nation's most diverse corporate boards."

The first newbie is Rosalind Brewer, a black woman who's president and CEO of Walmart-owned Sam's Club and has also served on the boards of Molson Coors and Lockheed Martin. The next is Microsoft CEO Satya Nadella, who is from India and, according to Starbucks, helps bring "an understanding of how technology will be used and experienced." The third is a white guy, Jørgen Vig Knudstorp, but he's Danish and works as executive chairman of Lego.
With the three of them, Starbucks' new corporate board of 14 people will be 29 percent female and 36 percent minority. Sorkin says women currently hold less than 20 percent of board seats in the business world, and that minorities have it far worse — less than 9 percent for African-Americans, about 5 percent for Asians, and about 4 percent for Hispanics. The trio still require approval at the annual shareholders meeting on March 22, but once that formality is taken care of, they'll join a group that runs the gamut from a 34-year-old born in Hong Kong (Clara Shih) to a 73-year-old Republican ex–Defense secretary (Robert Gates).