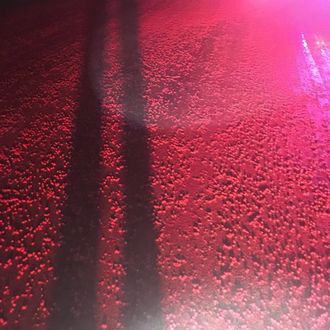 The actual roadway spill, shot by sheriff's deputies.
Photo: Dodge County Sheriff's Office
Thanks to a snafu during wet conditions, Skittles slid off a delivery truck and spilled all over the highway, where the Dodge County Sheriff's Office came upon them and understandably felt perplexed. (Partly because all of them were the red color and had started to "disintegrate in the rain.") The office later learned they were "intended to be feed for cattle," confusing even more people. Now candy giant Mars says that it's "investigating" why, exactly.

A representative for Mars tells the AP this situation — cows being fed candy — actually happens a lot. Producers will buy unused candies, then "incorporate" them with other materials to make feed. The mystery is why this giant box, since the Skittles in question weren't authorized for that purpose. "We don't know how it ended up as it did," the representative says, "and we are investigating." She adds these candies in particular were defective and should've been destroyed, but the only thing "defective" about them was improper branding. "There's no little 'S' on them," as the local sheriff, Dale Schmidt, explained to WISN. He says the "distinct Skittles smell" was a dead giveaway, though. He's also using this time in the limelight to crack bad jokes: He wrote on Facebook that since only the red were involved, it was "difficult to 'Taste the Rainbow' in its entirety," and that in the end, "these Skittles are actually for the Birds" (ba-dum chssh!).

The whole mess is just so weird that CNN, the first major outlet to cover it, simply informed readers: "This story starts out about Skittles but ends up being about cows." The AP tried tackling the deeper question on everybody's minds, the one about cows subsisting on artificial fruit-flavored candy, and it heard from an animal nutritionist that "You might think, 'Oh my gosh, they might be eating a Skittle,'" but really it's okay, because in reality "that piece of candy is being broken down."