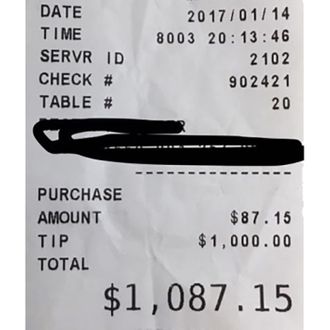 A server at a Canadian restaurant this past weekend picked the absolute worst day of the century to call in sick: Jennifer Peitsch, the Mongo's Grill waitress who had to cover her co-worker's shift, tells the local CBC News affiliate that a stranger at a table with three teenagers threw down a $1,000 tip on an $87 tab.
Peitsch assumed user error at first:

"I saw the receipt come out of the little machine and it said a lot more than their bill was," Peitsch said. "So I automatically kind of assumed, 'Hey, you kind of made a mistake here. You may want to re-look at this.'"

Peitsch was reassured that the tip was correct, and she burst into tears before hugging the customer.
The massive tip is a legit help, too, Peitsch says. She tells CBC she works two jobs right now to make ends meet — at a food store during the day, then most evenings at Mongo's, which is an hour's drive away. She's been trying to pay off some credit-card debt so that, in her words, she can "finally put money aside and get my future going," and this money "has removed that barrier."