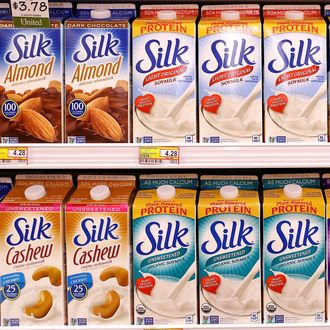 Pretty clear it's not from a cow — no need to have one.
Photo: Justin Sullivan/Getty Images
A new bill in Congress wants to put the kibosh on makers of dairy alternatives using dairy terms like "milk," "yogurt," or "cheese" to describe their products. The Dairy Pride Act was introduced yesterday by Wisconsin senator Tammy Baldwin, who believes the supermarket's dairy aisle has been overrun with shifty imposters that mislead consumers. "Imitation products have gotten away with using dairy's good name for their own benefit, which is against the law and must be enforced," her office says in a press release about the bill.
To "protect the integrity of milk," Baldwin's piece of legislation would effectively remove Feds' leeway in interpreting the definition of dairy products. ("Milk" would have to literally be "the lacteal secretion, practically free from colostrum, obtained by the complete milking of one or more healthy cows.") Since the government gets to decide what a food is and isn't, trying to convince officials to carve out a definition that hobbles the competition is a useful industry tactic, and despite one line about the need to defend milk's "nutritional value and quality," Baldwin basically admits this boils down to increasing Big Dairy's market share:
Producers of non-dairy alternatives argue that while the USDA and FDA do have specific definitions on the books, the rationale is to prevent consumer confusion. The prospect of, say, shoppers dead set on a carton of 2 percent cows' milk accidentally leaving the dairy aisle with Silk's almond milk isn't that likely. "Consumers are not confused when they're picking up a carton of soy milk or almond milk. They understand that that doesn't come from a cow," Plant-Based Food Association executive director Michele Simon tells Wisconsin Public Radio.
It may be a bad sign for the industry that the FDA already realized this wasn't a battle worth having over egg alternatives. Last year, Hellmann's and the American Egg Board both petitioned the agency to strike "mayo" from vegan spread Just Mayo's name, but their enemy prevailed after it found "common ground with the FDA" by stressing that, eggs or no eggs, they were still making a healthier, less wasteful food.