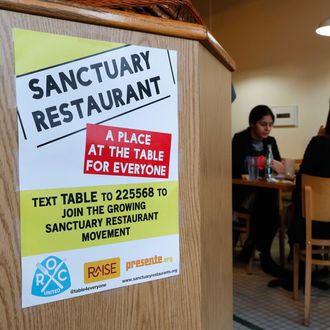 Restaurants commit to publicly post one of these signs.
Photo: Paul Sancya/AP Photo
A grassroots movement where restaurants vow to act as "sanctuaries" for immigrants is really picking up steam now that Donald Trump is sitting in the Oval Office. The campaign — called simply the Sanctuary Restaurants Movement and created by two aid groups with strong labor ties, ROC United and Presente.org — launched earlier this month. At that time, the 24 restaurants listed on its website were just "a sample" of the total support. But with the inauguration official, membership has climbed to around 80 restaurants in at least seven states. (The official website has a useful map of all participants.)

The group's members basically pledge to confront discrimination they see in the industry, put up a "Sanctuary Restaurants" sign, and discuss tactics for protecting at-risk workers, like how to ask federal agents for the proper paperwork if they attempt a raid. Organizers say the movement is part a response to an ongoing problem industrywide, and part a response to Trump's Labor secretary pick, Andy Puzder, a man who doesn't have a great track record with workers' rights. When it comes to acting as some kind of legal bulwark, though, these member restaurants' efforts are still "largely symbolic," as the AP points out; they're private businesses regulated by the same laws as everybody else, and sanctuary status won't keep the Feds from hauling off workers here illegally.

Not that surprisingly, the industry's biggest trade group, the National Restaurant Association, isn't getting behind the movement. An executive tells the AP they prefer the more, er, official channels: lobbying Trump to reform immigration, primarily by introducing a verification system that confirms citizenship status. They say they're "looking forward" to working with the Trump administration to make that process "easier and more cost-efficient."