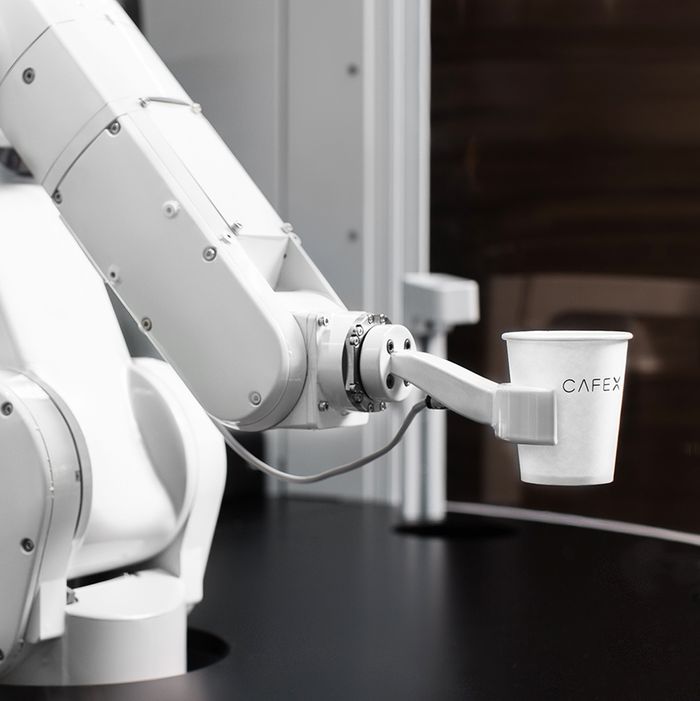 The robot takeover of the food industry continues apace, as Hong Kong start-up Cafe X has opened the first United States location of its coffee-brewing barista-bot. In San Francisco's Metreon mall, consumers can now get their coffee beverage of choice — like an eight-ounce latte for $2.95 — by tapping some buttons and selecting beans. The robot operates using a Mitsubishi six-axis arm that retrieves your cup, adds syrup if desired, and then plops the cup down in front a coffee brewer, where beans are ground and foamy milk is added. The whole process takes just 22 to 55 seconds.
Lattes aren't the only thing the Cafe X can do itself. The robot can adjust recipes according to temperature and humidity and largely cleans itself, confusing San Francisco health-department officials who didn't know whether to classify it as a mobile restaurant or vending machine.

This isn't the first barista-bot to hit the coffee scene, however. An automated kiosk called Briggo debuted in Austin back in 2013, offering customizable coffee. In the summer of 2015, Café Grumpy debuted the Poursteady, a robot that can brew up to five pour-over coffees at a time at espresso rates of speed. Hypercustomizable via an app, it's intended to help rather than replace baristas and has been adopted by other cafés. No doubt, robot-loving fast-food CEO and Trump Labor Secretary Andy Puzder is pleased with this news.