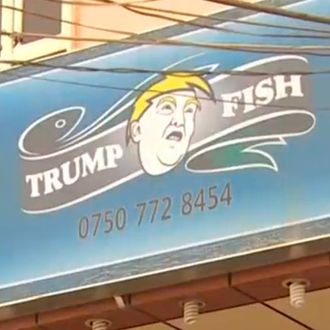 "The best oily fish you'll ever have, I guarantee."
Restaurateurs continue to find ways to protest Donald Trump at home, but in Iraqi Kurdistan, local businessman Nadyar Zawiti tells CNN he's "enthusiastically" named his fish restaurant in the northern city of Dohuk after the soon-to-be leader of the free world — a man who, coincidentally, can never pass up a good McDonald's "Fish Delight" sandwich. Zawiti says he picked the name after hearing Trump's campaign promise to arm Kurdish forces so they could help defeat ISIS.
Zawiti dismisses Trump's other campaign promise — the one about banning fellow Muslims from entering America — as empty rhetoric used to get elected. "What I admire about Trump's personality," he tells CNN, "is that he's decisive, he's tough, and hopefully with that toughness he'll finish ISIS off." If something else about the cartoonishly grimacing Trump on the restaurant's sign looks familiar, that's because his hair and eyebrows are the lightning bolt from the San Diego Chargers' logo. Zawiti stole the whole image from a 2015 Uproxx story whose explicitly stated purpose at the time was to mock Trump's failure to own an NFL franchise (it put "his name and face all over" every team's logo). Zawiti says his dream is to open a Trump Fish outlet near the White House one day, "if Trump will invite him in, that is."

For what it's worth, the restaurant serves only one dish: a fried carp, which is an oily bottom-feeder.