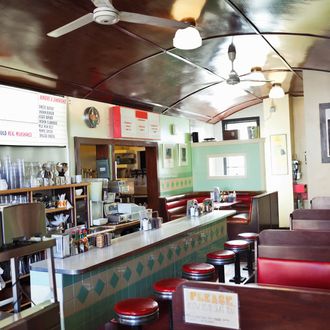 Typical dinner crowd in December.
Photo: Hero Images/Getty Images/Hero Images
A really bad year for restaurants ended on an appropriately sour note: Analysts predict December will be the only month in a particularly terrible year where the entire industry generated negative sales growth. Executives spent many of the previous 11 months fearing "the start of a U.S. Restaurant Recession" and straight-up saying it would "be helpful" if more competitors went bankrupt, but leave it to 2016 to punch the industry between the legs as it fades away for good. Some of the biggest chains are forecast to post sales figures in the red, like McDonald's (at -0.5 percent) and Applebee's (-5 percent).

Nomura analyst Mark Kalinowski — the man people have to thank for the dystopian image of 50,000 Starbucks cafés in the near future — says bad storms midway through December were "the largest factor in the sales decline." Restaurant sales often take a dive in adverse weather, but for what it's worth, arctic temperatures in December were sometimes more than 27 degrees above normal, which, while not exactly apples to apples, means that a monthlong heat wave also gave people plenty of excuses to go out more than usual. Weirder still, November was 2016's second best sales month for the industry, so Kalinowski puts on his glass-half-full hat and gamely notes that combo should at least "prevent [the fourth quarter] as a whole from being a disaster," which might be the rosiest-colored thing anyone said about the industry all year.

Fast-food franchisees do have a reason to be optimistic, though, as analysts expect their segment to see minor improvements in the coming months. They're predicting a one percent growth right now for 2017, which still sounds pretty bad, but is markedly better than the -2 percent they guess full-service chains will end up suffering through.