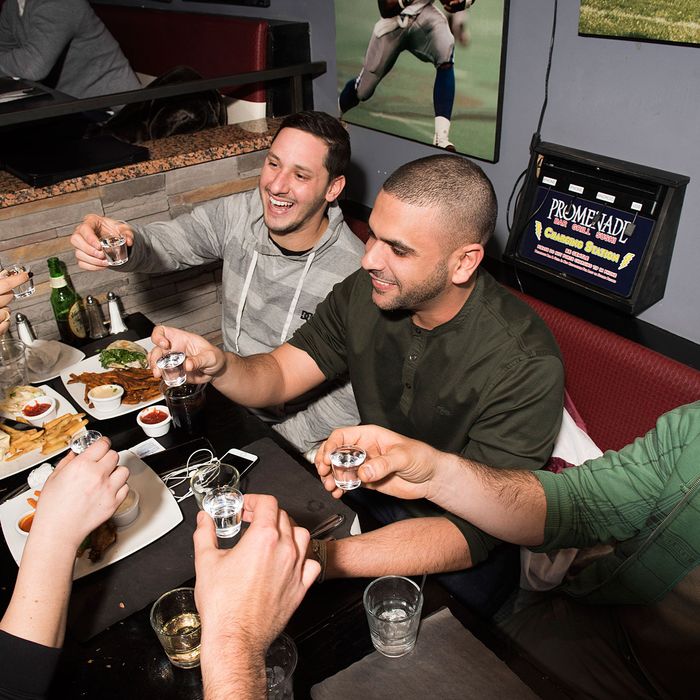 Promenade is Manhattan's only certified-kosher sports bar.
Photo: Liz Clayman
On a recent night at Promenade Bar and Grill, 49 flat-screen TVs simultaneously flashed the Giants game, hockey clips, and ESPN highlights. It was business as usual at the massive, 3,400-square-foot sports bar in Kips Bay, where $17 pitchers of Budweiser and the vodka puréed "Promenade cooler" are popular drink orders. It looks like any other sports bar, except at Promenade almost all the male customers wear yarmulkes and the piña coladas have dollops of kosher whipped cream. In fact, Promenade is Manhattan's only kosher sports bar — and business is booming.
Until very recently, eating kosher in New York meant high-end steakhouses, a handful of classic delicatessens, or take-out pizza and fast food. Two of the most well-known kosher restaurants are still the upscale Le Marais and Abigael's. Even as New York's dining scene in the last decade has skewed toward a younger and more casual crowd, the kosher dining scene has largely remained unchanged. Now, a new crop of kosher spots aim to offer the kind of fashionable, laid-back restaurant experience New Yorkers have gotten used to: Mexikosher on the Upper West Side looks like it could be a spinoff of Dos Toros. In Brooklyn's Mill Basin neighborhood, Main House BBQ turns out slaw and brisket in the sort of industrial setting so familiar to the city's barbecue lovers. Upside Craft Burgers also opened in Brooklyn in November to an immediately packed house. There are kosher options for sushi, kale salads, and hibachi. "We have a much younger, more affluent audience that wants everything that everybody else has — and they want it kosher," says Menachem Lubinsky, the editor-in-chief of Kosher Today.
Last May, Promenade also tapped into that market. Word of its transformation quickly spread throughout the observant Jewish community. People now travel from out of town to check it out, something that wasn't the case when partners Jeffrey Hardoon and Saul Brooks opened the bar in 2013, originally, and briefly, called Bottomz Up Bar and Grill. Back then, nothing distinguished it from nearby places that traded in trivia Tuesdays and $7 drink specials for Ladies Night. As one customer put it, the place was often "depressingly dead."
The bar is located between Baruch College and Yeshiva University's Stern College for Women, and Hardoon and Brooks, who are both Orthodox, watched unhappily as Jewish customers they knew to be observant ate nonkosher food. Hardoon didn't like them violating kashrut in his establishment. He first tried offering sushi, which only partially worked, and then one night suggested to Brooks they just make the whole place kosher.
The partners realized that providing a niche service might also be a smart business move, so for several days after Passover last year, they shut down the kitchen while OK Kosher Certification came in and purged the place — a costly, complex undertaking. "It was a major risk," Hardoon says. "If we were going to go kosher, we had to have it so all Jews could eat here, not just the nonobservant ones."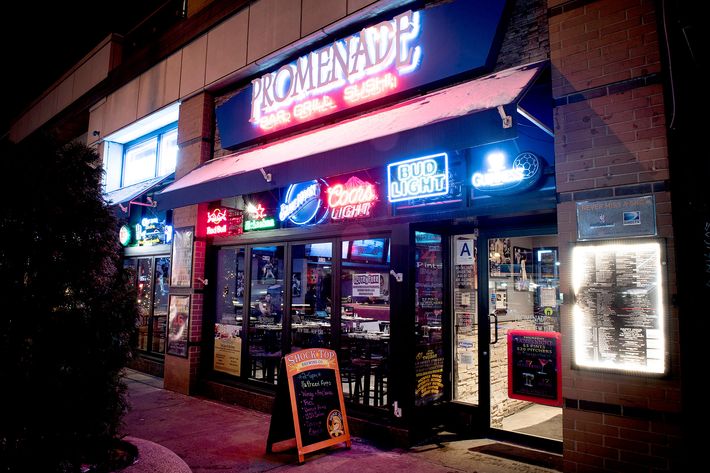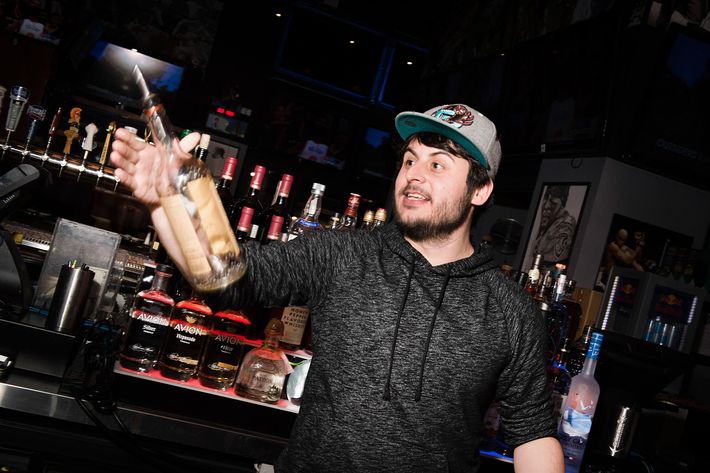 Kosher certification goes far beyond not serving pork and dairy: Hardoon had to buy new dishes, print new menus, and hire two mashgiachs (supervisors of kosher establishments) to oversee the food prep. He bought prayer books and extra yarmulkes to have on hand. A rabbi sanitized the equipment with a blowtorch. The ATM was ripped out and replaced with a sink for ritual hand washing. Hardoon also had to donate noncertified liquor to charity, which means no more Fireball shots.
There were other trade-offs too, like losing business on Friday nights and Saturday afternoons (sacrificing college football games) to observe the Sabbath. Kosher food is also handled in more labor-intensive ways, such as slaughtering meat in a specific fashion and employing the mashgiach to carefully wash and cull lettuce leaves to ensure no insects taint the produce. These efforts cost more, and the burger at Promenade increased to $18.
Despite the higher costs and some lost weekend revenue, the bar makes more money than ever. Eddie Fahmy, the manager, says business is up 50 to 60 percent. One waitress says she can collect $200 in tips on some nights, a big boost from the $50 she might have earned before certification. (The partners don't explicitly advertise that the bar is strictly kosher, which helps ensure a steady flow of non-Jewish customers as well — many of whom don't realize they can't order a cheeseburger.)
On one recent busy weeknight, Hardoon hurriedly swung into the kitchen. "How's my A team doing?" he asked the cooks, who were assembling plates of kosher burgers and wings. The run-up to the Super Bowl is like an extended, month-long Black Friday for sports bars — a time when business can jump sixfold during a playoff game — and the throngs have doubled at Promenade. The NFL of course still schedules its marquee games, and the Super Bowl itself, on Sunday, but at least some of Promenade's appeal goes beyond sports. "If there wasn't a big game, we were never crowded," says Hardoon of business before the certification. "Now, it doesn't seem to matter."