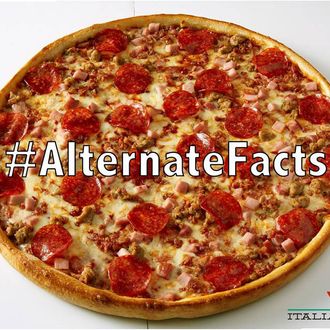 This pizza is beautiful, the best — eat as much as you want.
Photo: Villa Italian Kitchen/Facebook
Turns out existing in a post-facts world can be liberating, especially if you prefer ignoring the consequences of eating fatty foods. To this end, Villa Italian Kitchen, found mostly in food courts, has introduced #AlternativeFacts pizza. Sure, this new pie "might sound too good to be true," but the company insists it's zero calories despite being "loaded" with bacon, pepperoni, ham, sausage, and mozzarella on very carb-heavy crust. Also, because size always matters in this universe, the servings are "YUGE" — six slices instead of the usual eight — making for a "positively presidential" pizza that Villa says is "fit for even Kellyanne Conway!

Food items lampooning America's president are a dime a dozen by now, frankly, but typically they're also the work of small restaurateurs who know their customer base, and are willing to piss off the pro-Trump portion. Villa Italian, on the other hand, has grown from a single pizzeria on Broadway next to the Ed Sullivan Theater back in 1964 to a 300-location chain that runs other mall eatery staples (Green Leaf's, Casa Java, South Philly Steak & Fries) in almost every U.S. state. This fact-free pie is going to make the company several enemies, but somebody was at least strategic enough to put a ton of bacon on it.