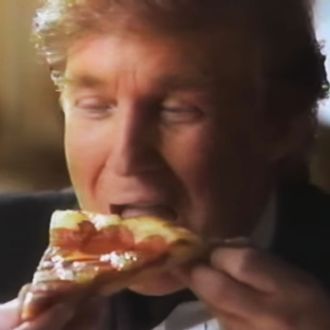 Of all the controversial things Donald Trump has done in his 70 years, one of the most outrageous was undoubtedly the time he endorsed eating pizza the unnatural way, i.e., backward. The year was 1995 — Pizza Hut had just invented stuffed-crust pizza, and Trump agreed to do an ad where he pretended it's better to remove the slice's built-in handle before consuming the greasy part. A YouTube video of the spot went viral during the 2016 campaign, and it stars Ivana, who'd just messily divorced him, and came shortly after Trump declared bankruptcy four separate times.
It's 30 seconds of them uttering what sound like awkward come-ons until you realize what "feels so right" is eating pizza crust-first:

As it happens, though, "Page Six" reports today that the creative director behind this embarrassing ad, which internally was actually called "Pizza Slut," has put the original storyboards up for sale. For the low, low price of $15,000, you can now own a piece of the moment America's president shilled for fast-food pizza by flirting with an ex who, just years prior, had accused him of "cruel and inhuman" abuse.

"Great job!" Trump noted at the time, right next to both of their autographs: