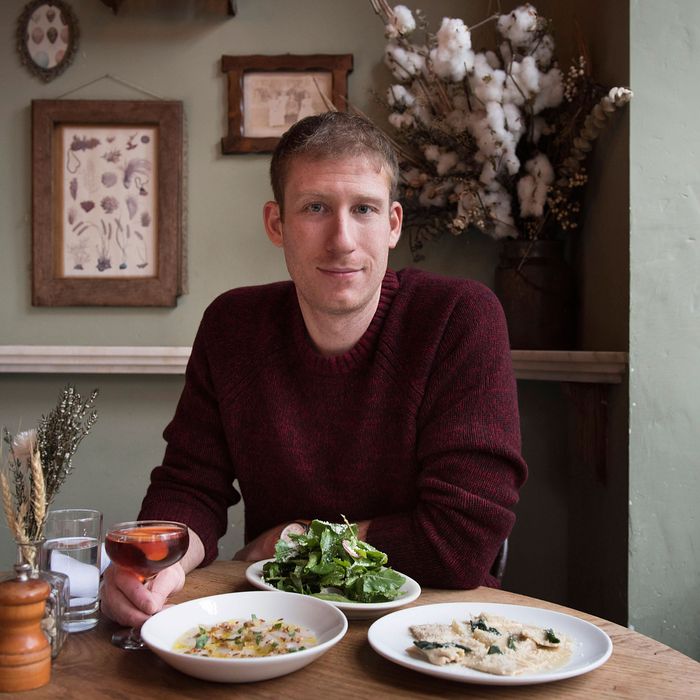 At Rucola, a neighborhood favorite.
Photo: Liz Clayman
Olmsted in Prospect Heights emerged as one of the smash-hit new restaurants of 2016, which means chef-owner Greg Baxtrom can finally relax a bit. "To be honest, it's only been since Thanksgiving that I've been able to go out at all, and we've been open since May," he says. "I managed to go to Le Coucou and Lilia, but until the last few weeks, that was it." This week, he used his newfound freedom to go to old favorites like Walter's, Mile End, and Rucola, and relax at home with brown-butter popcorn and cartoons.

Thursday, January 19
I wake up and have coffee at Joyce, a cute mom-and-pop place across from Olmsted. I also make a protein shake for myself every morning: kale, Brussels sprouts, flax seeds, and lots of frozen fruit. As for the Brussels sprouts, it's just what's in the walk-in right now. I just assume because it's a vegetable, it has to be good for you. I've even thrown cauliflower into my shake.
For staff meal, we have biscuits and gravy. We just hired a guy who left Husk, so there's been a lot of southern influence. Our favorite staff meal is breakfast, so we went for it.
I'm always eating lots of bread and butter. Our bread is from Runner & Stone and it's so good. I snack on it a lot during the day and I'm trying to get my team to not let me do that anymore.
That night, Corey Chow (the executive sous-chef at Per Se) and I go to Walter's and have Negronis and French fries. We both used to live in that neighborhood, and it was our old hangout spot. We don't really get to see each other, so it's a nice moment of rekindling our friendship.
Friday, January 20
Wake up and make myself coffee, and then have my protein shake again.
I have a pastry — a little fruit turnover — from Daly Pie on the block during a meeting.
We get a shipment of rabbit in, since we're playing around with it for a new dish. We make a whole bunch of stuff and we're considering doing a full rabbit tasting, so we make a rabbit country pâté, rabbit agnolotti, and rabbit loin wrapped in house-made lardo. Ultimately, it is really good but isn't quite Olmsted-y — it's a bit too serious and a little obnoxious. So we're back to the drawing board, since we want to have rabbit on the menu in some way and still need to play around with it. The menu changes a lot, and there aren't that many animals to work with, so rabbit's into the fold.
Sloppy joes for staff meal with coleslaw and sweet-potato wedges.
After work, I'm hungry and have no-pork halal Chinese food from a place under my apartment. It's usually where I go when I'm exhausted, and because they're Muslims, they don't use pork. It's literally called No Pork Halal Kitchen. Amazing. I get the Indian chicken, which is definitely the tastiest thing that they make.
Saturday, January 21
Coffee from A&E Supply, and I buy sausages that they make there and cook myself breakfast.
We're making these crackers for the tartare and playing around with them because we can use the same dough to make flatbread. We're trying to come up with something sloppy-ish and fun, where you have to use the flatbread as a vessel. I eat some of those.
I leave around 10 p.m. and go to Rucola, where I have what I usually have: Negroni, crudo, arugula salad, and whatever the special is, which this time is the chestnut ravioli with lardo.
Sunday, January 22
I go to this new coffee shop near Rucola called Dot & Line. I'm not really a big fan of most of what's happening with coffee — very fruity, tea-like, sour coffees — and these are a couple of guys who like how coffee is roasted in Portland. It's a bit of a darker roast, and it's good. Then I walk to work and make myself another smoothie before going to the gym.
For lunch that day, it's one of our cooks' birthdays, and his favorite thing to eat is hot dogs. We make that with as many garnishes as we can come up with, and I eat some of that with potato salad and spinach salad.
At night, I take home a whole bunch of charcuterie, like pâté and ham and duck rillettes, and sit on my couch eating that and watching cartoons.
Monday, January 23
I go to Hungry Ghost coffee shop on the way to work. It is technically my day off, but I'm never not at the restaurant.
I have a Mile End smoked-meat sandwich for lunch. I tend to watch a lot of cartoons on my days off.
I don't eat much for the rest of the day, since that filled me up. Honestly, when I'm by myself, I often don't eat all that much. I have to remind myself to eat. But late night, I get hungry and make myself some brown-butter popcorn.
Tuesday, January 24
I wander into Stick With Me Sweets and have a bunch of chocolates because they're so amazing.
I don't eat much during the day because I'm getting ready to eat a ton of French food tonight. But I have leftover charcuterie at home, so I basically eat charcuterie before I go out for more charcuterie.
For dinner, I go to North End Grill with Jimmy Bradley and Andrew Friedman and we eat the entire menu — charcuterie, rillettes, trotter, French-onion soup, cassoulet, and all the desserts, and then they drop a decanted bottle of Scotch on the table.