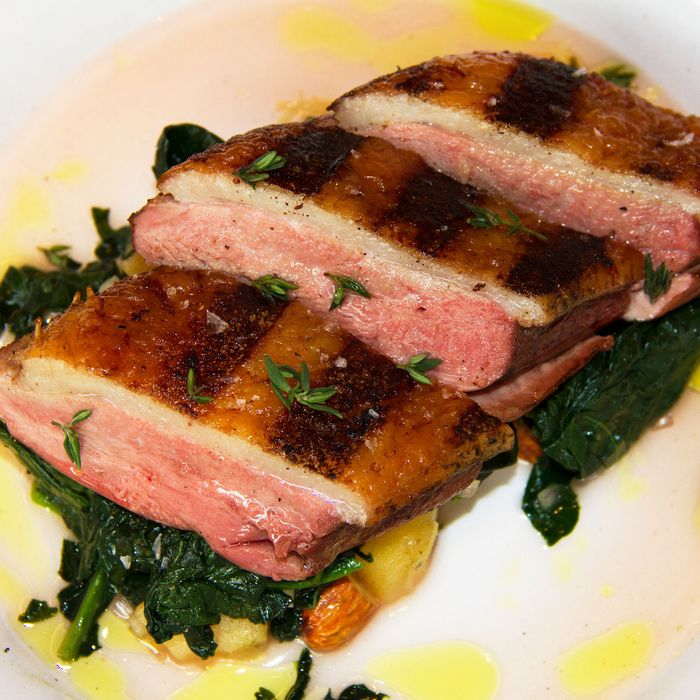 Pekin duck with Tuscan kale, almonds, and poached quince.
Photo: Jemma Hinkly/New York Magazine
If it's true, as I've observed before, that the world of cooks and restaurateurs can be divided, the way the philosopher Isaiah Berlin famously did with writers and thinkers, into "hedgehogs" (those deliberate souls who know one thing well) and "foxes" (those restless, artful Mozarts who know many things), then Dan Kluger would seem to be a card-carrying hedgehog. Unlike many impetuous young chefs these days, he spent years working his way up through the ranks of the Danny Meyer empire, before finding notoriety as the executive chef at Jean-­Georges Vongerichten's restaurant ABC Kitchen. When he decided to strike out on his own, way back in 2014, his fans waited eagerly for the next move. Then they waited some more. In classic hedgehog style, it took Kluger over a year to find the perfect space for his perfect restaurant, and after cycling through countless options, finding the perfect name took even longer than that.
The name Kluger settled on, in case you haven't heard, is Loring Place, which has a predictably stolid, old-world, hedgehog ring to it, and after much hand-wringing and delay ("I don't ever want to see a contractor again for a long time," he has said), the restaurant has finally opened in a double-wide Greenwich Village storefront space, on an innocuous stretch of 8th Street. As you'd expect, the rooms (a bar, a split-level dining space, and a subterranean private-events area) are filled with all sorts of practical touches, many of which echo the places Kluger has worked before. The sturdy, extra-long, Danny Meyer–style bar is made of smooth painted concrete and seats 17 diners comfortably. The genial wait staff are dressed in Meyer-issue aprons, and the white-­painted-brick-wall dining room has been fitted with farm tables and Scandi-style café chairs in the utilitarian ABC Kitchen style.
Kluger also ran the ABC Cocina tapas concept with Vongerichten, but it's no surprise that his singular, hedgehog­like focus here is the kind of elevated, crowd-pleasing Greenmarket cooking that made his reputation at ABC Kitchen. The menus of the two restaurants are more or less structural carbon copies (on my visits, each featured three pastas and four pizzas), and like at ABC, the meal here begins with a bombardment of carefully sourced vegetables, crudi, and salads. The fries I ordered one evening at the bar were made not with potatoes but with strips of butternut squash nestled among little fronds of frizzled parsley. They were accompanied by baby raw vegetables, carefully arranged around a tart carrot-ginger purée, and a bowl of lemony, velvet-smooth hummus, garnished with baby radishes, that was so good I ordered it twice.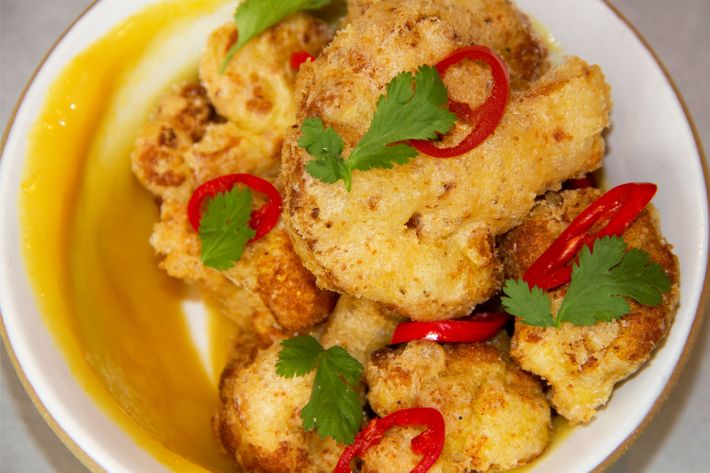 I don't recall ever enjoying hummus at ABC Kitchen, but that trendy Japanese winter squash, kabocha, is paired with ricotta and toast at both restaurants (at Loring Place, your toast is on the side), and if you order the pear salad here, you'll find it tossed, not unpleasantly, with leeks and sugary walnuts instead of apples and candied pecans. This slight reshuffl­ing of ingredients pops up throughout the menu, and some of Kluger's experiments work better than others. I wasn't wild about the tart, sticky spoonful of lemon "jam" at the bottom of my bowl of nicely crisped but oversalted fried cauliflower. I'm not sure that avocado and honey-mustard vinaigrette are a natural match for grilled Brussels sprouts, either, although Mrs. Platt, a vehement booster of ABC Kitchen, enjoyed this dish, and the clean, lemony chopped salad, so much that she asked to have the leftovers packed up for her lunch the next day.
The cry for leftover boxes would dissipate after that, however, and as dinner progressed, you got the feeling that the kitchen might have strained a little too hard to duplicate the successful recipes from ABC Kitchen without copying them exactly. That favorite Vongerichten garnish, jalapeño, was sprinkled on everything, including several of the overworked (though nicely baked) whole-wheat pizzas (the best is with crab and fennel), and the pastas I tasted (ricotta-stuffed agnolotti with parsnips, spaghetti drowned in spinach and a slick of chile oil) could have used an ingredient or two less. The same was true of my $31 lamb chop, which worked better once the random wad of tomato compote and bread crumbs were wiped off the top, although like other big-ticket protein items we sampled (chicken breast with carrots, candy-soft slices of Pekin-duck breast, a crackly pressing of suckling pig), the chops were nicely cooked.
Loring Place is in the midst of what could be a lengthy shakedown cruise (it's been open for nearly six weeks), but given the chef's deliberate nature, these little kinks should be worked out over time. For now, they don't seem to be distracting the crowds of revelers who are jamming into the boisterous downtown space to hoist a nice selection of classic and newfangled cocktails at the sometimes imposingly noisy bar (try the weirdly potable "The Stable," made with matcha and gin). The wine list is deep and varied enough to enliven any meal (there are 17 Champagnes to choose from), and so are the best of the polished, neo-comfort-food desserts, like the spongy choco­late "Hostess cupcake" filled with orange crème fraîche, and an impressive artisanal, post-­gourmet version of a Dairy Queen Blizzard, mixed with bits of housemade walnut toffee, pretzels, chocolate fudge, and a hint of Meyer lemon.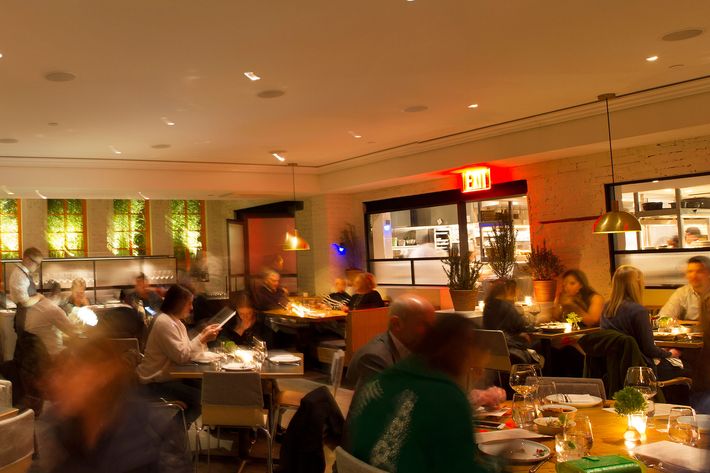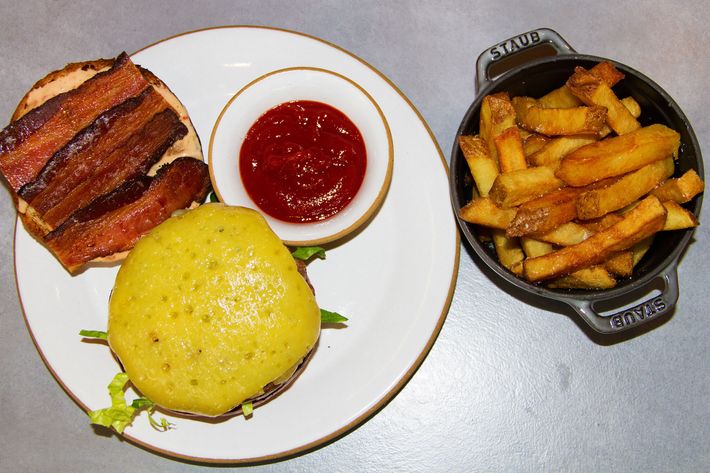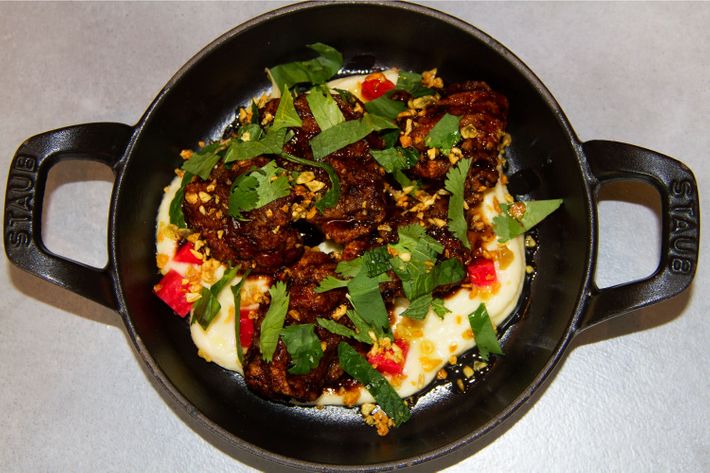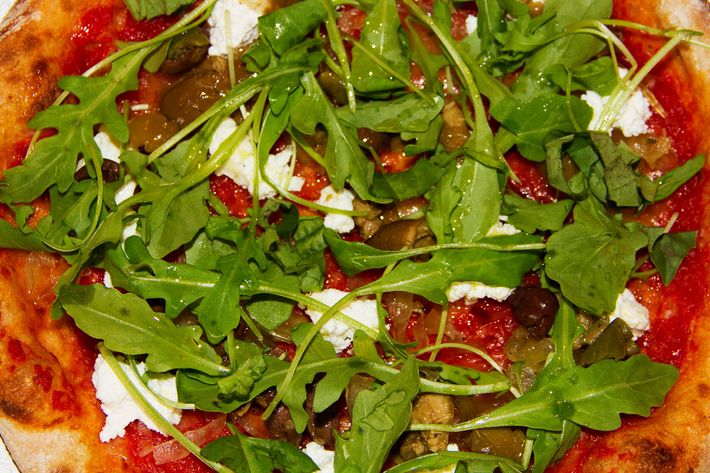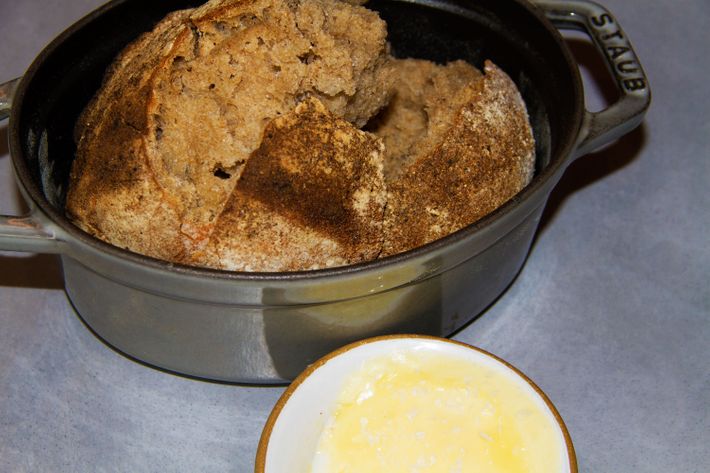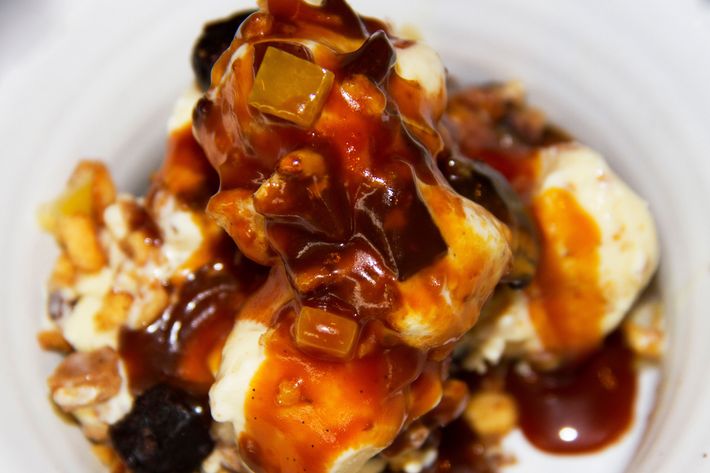 Loring Place
21 W. 8th St., nr. Macdougal St.;212-388-1831; loringplacenyc.com
Ideal Meal: Hummus and/or butternut fries, chopped salad and/or leeks and pears, whole-wheat pizza with crab and/or the crispy chicken, Pekin duck with kale and almonds, vanilla ice cream "Blizzard."
Note: To escape the rising noise levels in the low-ceilinged, hard-surfaced dining room, agitate for a table in the back.
Open: Dinner, Tuesday to Sunday.
Prices: Appetizers, $6 to $16; entrées, $16 to $32.
Scratchpad: One wavering star for the uneven Greenmarket cooking and another for the attentive service and the desserts.
*This article appears in the January 23, 2017, issue of New York Magazine.