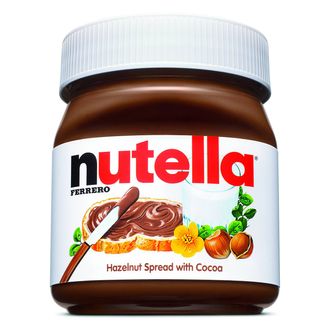 Could something this tasty really cause cancer?
Photo: Nutella
Ferrero is mounting an ad campaign countering claims that a key Nutella ingredient might be carcinogenic — by telling people the hazelnut spread would be less delicious if it were to make changes and eliminate a "potential health concern." About a fifth of Ferrero's sales come from its wildly popular flagship product, so the company is hesitant to do anything that might change its taste. That includes caving to pressure to source less palm oil, an ingredient whose use also causes massive deforestation and has created years of headaches for Ferrero.
This most recent one started back in May, when the EU's food-safety arm released a report warning palm oil contains contaminants people might want to consider not consuming. Their primary worry was a potential carcinogen and genotoxin called GE that forms when the oil is refined at temperatures over 200 degrees Celsius. The group says more study is needed before outright advising that people avoid foods with GE, but Italian companies started removing palm oil anyway. The country's largest supermarket chain, Coop, quit putting it in all house-brand products as a "precaution," and pasta giant Barilla also tossed it earlier this year. (Still worth noting that its reputation isn't great on any continent, frankly: The Girl Scouts are on a mission to limit the palm oil in their cookies, and Kellogg doubled down on efforts to ensure it's sustainably sourced this year, too.)
Ferrero's ads explain Nutella is "safe" because it's made using a special industrial process. It costs 20 percent more, but keeps everything "just below" 200 degrees and relies on low pressure to reduce contaminants to a level "so low that scientific instruments find it hard to trace" them. Ferrero hopes the campaign will change some minds, because the company's sounds pretty set: It puts a lot of palm oil in Nutella, mostly to achieve that silky texture and extend shelf life, and an executive tells Reuters that its removal would be "a step backward" since that would only "produce an inferior substitute for the real product." It would certainly be a step backward in profit: As Reuters also notes, the "economic implications" of abandoning the ingredient, which is the cheapest vegetable oil available, could be an extra $8 million to $22 million down the drain every year.