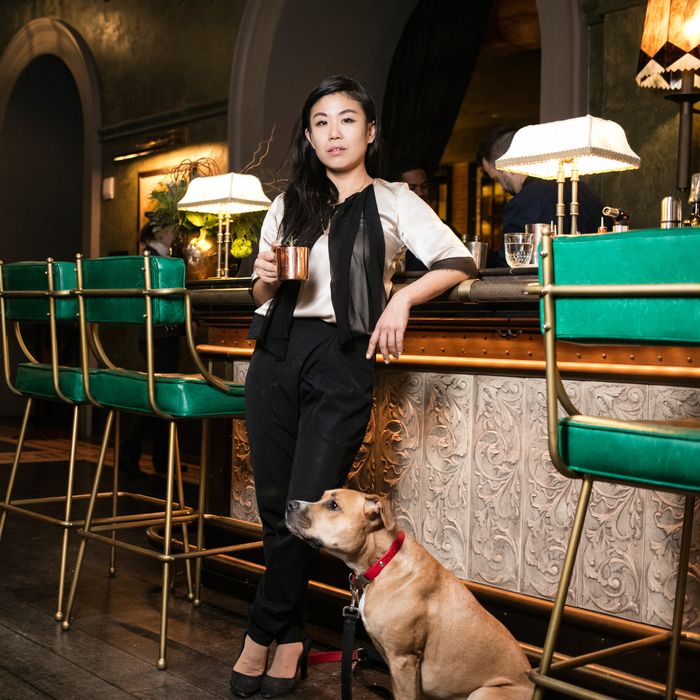 At the Beekman — with Doris!
Photo: Melissa Hom
Nancy Whang is best known for her vocal work with dance-punk band LCD Soundsystem, but right now, she's on a "work hiatus," which means she's enjoying all that New York has to offer (and DJ-ing — you can catch her at the Bad Room this Saturday). This week, that free time allowed her to hit up four bars and restaurants within the span of one night, cook chili, and eat caviar in Jackson Heights. While she did fall asleep before midnight on New Year's Eve, she at least did it with a can of Modelo. Read all about it, in this week's Grub Street Diet.
Wednesday, December 28
I planned a GNO with my friend Scott, and the first stop was crashing a friend's birthday party at Speedy Romeo. I got there before Scott, so I ordered a Negroni with vodka at the bar (I don't like gin and gin don't like me). Scott arrived and we joined the birthday table. Nils, the birthday man, was pouring a celebratory 1968 Madeira. The year was probably of some significance to him. I'm not a huge fan of Madeira, but I was into the idea of drinking something that's been sitting around untouched for 40-plus years.
We left the pizza restaurant without eating any pizza and headed to the next item on our agenda: nachos. We wanted to check out this new spot on Bleecker called Ghost Donkey that serves "elevated" nachos and cocktails featuring tequila and mescal. A couple of weeks ago, some friends and I went to Guy Fieri's All-American Bistro Bar Bonanza. I expected the atmosphere of a celebrity-owned 500-seat restaurant to be carnivalesque, but "funereal" would be a more accurate description. I bring this up to ask, What is Guy trying to imply with the donkey in Donkey Sauce?
Scott and I ordered the chicken-mole nachos, having asked our server which was the most nacho-y of all the nachos. I got a mushroom-fungus margarita (huitlacoche) and Scott ordered a cocktail consisting of tequila, Fernet, and Coke that arrived in a little glass Coca-Cola bottle with the top sliced off. All three things were very enjoyable, although we both concluded that it was unlikely either of us would ever end up there again. We're just glad to know that it's there. Great lighting in the bathroom.
We decided to take a little stroll and find another cocktail before we hit our final destination. I suggested Temple Bar on Lafayette. I actually never knew its name before now. It was always just an inconspicuous door next to Noho Star.
It's quiet on a Thursday and they were playing some very tasteful jazz music. I felt like we were in a Murakami novel. We took seats at the bar. Scott ordered a "girly champ cocktail" (his words) that had berries floating in it, and tasted exactly like Hawaiian Punch. I asked for a Moscow Mule and was deeply disappointed when it didn't come in a copper cup.
Our last stop was Fowler & Wells. Scott wanted to see what Tom Colicchio has been up to and I've been dying to check out the interior of the new Beekman hotel. It is absolutely worth going to the Beekman if only to see the atrium. I DJ-ed the Maison Martin Margiela for an H&M party a few years ago that was held there, when the building was still essentially abandoned. Look it up. My words can't do it justice. It was like being in the ghost of an ornate historic mansion.
We sat in the Bar Room, sadly without a view of the atrium. We ordered clams casino, oysters, onion dip, and a beef-cheek ravioli — we went high and we went low. We were most excited about the onion dip. Memories of childhood parties and whatnot — no one can resist onion dip. I wanted it to come with Ruffles. I drank a cocktail called the Franz Joseph Gall. I just looked up who that was: the founder of phrenology. And suddenly the theme of the place has just revealed itself to me and it's a little creepy.
Mid-meal, our server stopped by to let us know it was last call for food orders. We couldn't possibly imagine eating more, but as soon as she walked away we remembered … dessert! So we called our server back and asked for the apple tarte tatin. She returned from the kitchen with a flat-out denial. Meanwhile, I had posed the same question to a busboy who said, "I don't see why not." A tactic I employ regularly: keep asking the question until someone gives you the answer you want. He returned a bit tail-between-legs and very apologetic that there was absolutely no way for a tarte tatin. Somebody must have yelled at him in the kitchen. But then, as if emerging from a dream, our server returned to us again with a piping hot apple tarte tatin in hand. So worth the groveling.
Thursday, December 29
I woke up late and very dehydrated due to the previous night's adventure. My "fitness coach" was on her way over so I downed about two quarts of watermelon juice. (I wouldn't want to mislead anyone by calling her my "trainer," as that implies working towards accomplishing a remarkable feat, whereas I'm in a battle for maintenance.)
After my little workout, I prepared my dog's breakfast. This is the part where I reveal what a total lunatic I am about my dog. Her name is Doris and she is an angel. She's currently on an elimination diet in an attempt to identify a food allergy, so right now she eats only ground bison which I order from Colorado — it arrives frozen via second-day air — and yams, which I bake for her. Yep.
Breakfast for me was two pieces of toast. We rarely have sliced bread in the house, so I was a little excited for the novelty. And I was excited for the astonishingly delicious raspberry jam, which my man's mother makes. And for Vegemite! I haven't had Vegemite in ages. I love Vegemite. But when I opened the jar, it was covered in mold, so never mind about the Vegemite.
I needed to go into the city to exchange something at Supreme, which is to say, I am currently on a work hiatus and profoundly un-busy so I have to invent things for me to do that seem important. And I figured it would open up more opportunities for noteworthy eating experiences for this diary than there would be from my couch.
I failed to make the item exchange, but I managed to not stand in line in the rain. It dawned on me that I hadn't had any coffee yet so I went next door to La Colombe. I've seen lines out this door, too. I don't understand. I don't understand waiting in line for anything, really. My black filter coffee was just okay.
Inspired by all the food prep I've been doing for Doris, I thought I would make chili tonight for me and Nick, my boo. I use a recipe I got from my brother Simon, which I emailed to myself back in 2009 so I could always have access to it. I walked over to the Whole Foods on Bowery to do my shopping. I realized I was starving, so I picked out a roast-beef-and-cheddar sandwich from the meals-to-go section, forgoing the ham and cheese because it was made using only the ass ends of a loaf of bread. Both sides! It was an 100 percent crust sandwich. No one is going to choose that sandwich. Good on you, Whole Foods, I guess, for not being wasteful. But in reality, aren't you really wasting those slices of ham and cheese? Because nobody is choosing that sandwich. Nobody.
As I was surveying my snack options, an announcement came over the loud speaker that there were fresh-out-of-the-oven fish-stick samples at the seafood counter (!!!). I sped my cart over there to investigate. I ate one, and then I ate another, and then I ate another. In my defense, those three samples barely comprised half a stick. I would have kept going, but more people started to gather around, and I didn't want to be judged.
On the train ride home, I decided the fish-stick samples were enough to tide me over, so I didn't need to eat my roast beef and cheddar sandwich on the subway. I do a lot of eating out in the open, like while I'm walking or driving or on the subway. I'm not sure why I do this so often. But there is something both revolting and joyful about doing it.
Before the chili prep begins, I wanted to have a little more snack, but I postponed the roast-beef-and-cheddar sandwich again to finish off the leftover roasted yams with lime-yogurt sauce I had made the night before. The recipe came from the Gjelina cookbook. I made them for Thanksgiving, as well. They were a popular dish, and since we have so many goddamn yams in the house these days, it seemed like a good idea to make them again. And the leftover yogurt sauce would go great with the chili! I'm happiest when I can repurpose foodstuffs. To accompany the chili, I made a cabbage-and-Brussels-sprouts salad, which I modified to include the pomegranate seeds and clementines I already had lying around (see?). I ate the first half of the roast-beef-and-cheddar sandwich while I made the chili.
After dinner, I remembered there were two pieces of cake in the refrigerator leftover from Christmas Eve at the "in-laws": carrot cake made by his mother and my pineapple upside-down cake. I recently had a birthday and my brothers very thoughtfully sent me a KitchenAid standing mixer, which I always wished I had, but would likely never buy for myself. Best kind of gift. I christened it with the pineapple upside-down cake.
By the way, I made about three gallons of chili, so expect to see more chili in the coming days.
Friday, December 30
The morning began with my usual black Stumptown coffee that Nick brings to me in bed (he's taken, ladies). I have a particular affinity for Stumptown because we both come from the same hometown. And then there was that time I DJ-ed their Christmas party, and as part of my compensation, they suggested they'd send me three bags of coffee every week until the end of time. Initially, I didn't really see the value of compensation in this form, but after doing a little math, it was clear how much I no longer needed to spend over a lifetime of coffee-drinking.
Breakfast was a yogurt parfait made up of Greek yogurt, a mix of berries and pomegranate seeds, and Oro Provisions granola in Primal Forest. The pursuit of the perfect granola is seemingly endless and full of disappointment that you have to suffer through for many days or even weeks because granola is expensive.
A friend asked me to record a New Year's Eve countdown for his party so I went to Nick's studio. I do a pretty good impression of a humanized automated voice. I ate one chocolate-covered pretzel because it was there. The recording didn't take long so I sent it off and went back home to have some chili for lunch. When I opened the refrigerator, I saw the other half of the roast-beef-and-cheddar sandwich so I went for that first. But as soon as I sat down, my friend sent me a text asking me to redo the recording. So lunch was just the half-sandwich and I went back to the studio.
As you might have guessed, we had chili for dinner followed by chocolate-black-pepper cookies brought home from Christmas Eve dinner.
Saturday, December 31
Started the day with my hand-delivered morning coffee. We needed to get Champagne for the night's festivities and wanted to miss the last-minute crush of other procrastinators, so we headed to the wine shop with Doris. Nick had DJ-ed a benefit party with a bunch of friends at Good Room the night before and was in rough shape this morning. He was intermittently letting out these audibly pained groans as we walked around. I found it to be very funny. I bailed on going out so I felt great. Also, the roles are typically reversed, so I was appreciating this rare occurrence. Nick needed to rehydrate, so we stopped by Summers Juice & Coffee up the street from us. I went with the "Yellow" juice because it contained turmeric and I thought that might help me out later in the night.
We picked up three sparkling wines from Uva. I mean, did it really have to be Champagne? Throughout our walk, Nick was announcing his changing food cravings. It started with a smoothie or açai bowl and quickly devolved into cheeseburgers, nachos, pizza, chicken, and waffles … We settled on a balance of salads from Sweetgreen and sandwiches from Saltie. For efficiency and to get Nick home faster, we tag-teamed the food pickup. Nick headed for Saltie while I headed to Sweetgreen because I have the app and tons of credit in my account courtesy of my friend Nic, who I put on the list to an LCD show. On my way to Sweetgreen, I made a pit stop at the fancy pharmacy for charcoal pills, again, because I thought they might help me out later.
Nick's usual at Sweetgreen is the Guacamole Greens, hold the tortilla chips. I typically go for the OMG Omega but since there was a hearty sandwich on the horizon, I went for the kale Caesar with avocado instead of chicken. At Saltie, Nick got me the Balmy and a Little Chef for himself, plus a second Little Chef, just in case.
Around 5 p.m., we headed to Jackson Heights, where friends were having an early New Year's Eve gathering. They just had a baby, so they're on a grown-up schedule. They served cheese, which I wish I remembered the names of because they were very stinky like I like them. They also had out caviar from Frankel's Deli with the requisite crème fraîche and blinis. Caviar is one of those things I sort of wish I had never discovered because I could eat it like a six-pack of pudding cups, except for it being prohibitively expensive. I did my best not to scoop the whole jar onto my blini and distracted myself with the cheese. Had I known there would be caviar, I would have brought potato chips (Pringles, not Ruffles — Ruffles are for onion dip), and absconded to a corner with my back to the room using a potato chip to shovel the caviar into my mouth like an animal.

One of the wines we brought was a Pét Nat I hadn't tried yet from La Clarine Farm called Circles Don't Fly They Float. I chose it for the color — a cloudy pale peach signifying light funkiness. It's kind of a weird one so I was impressed that everyone at the party really went for it.
Nick and I still hadn't made plans for what we were going to be doing at midnight. This was the first time in maybe a decade that neither of us are working on New Year's Eve, so in honor of getting to avoid a big thing, we were looking for something mellow. And wherever we ended up, we wanted to be sure we could get home easily. Our friend Andrew was going to be playing records at Walter Foods from 10 p.m. on, so he invited us to keep him company at the bar and dine on his tab. That sounded like just about our speed and we could walk home after. We headed home around 9 p.m. to change and walk the dog. On our way home, I told Nick that if he wanted to go out to Walter, he couldn't let me sit down or else I'd lose momentum. We had to get in and get out. We took Doris around the block and then decided to give ourselves a moment to drink a beer before going out again. I took about three sips from my can of Modelo with my feet up on the couch and it was game over. Nick woke me up to give me a kiss at midnight and I instantly fell back asleep. Somehow I knew that preparing for a night of heavy drinking with the turmeric and charcoal pills guaranteed they wouldn't be needed. At all.
Sunday, January 1
Morning coffee followed by yogurt parfaits (see above). It's New Year's Day, and it's a Korean tradition to eat rice-cake soup (dduk guk). Its significance has something to do with the white-rice cakes symbolizing purity and prosperity. I didn't actually learn that from my parents. I got the broth started by boiling some flank steak with a head of garlic.
The Four Horsemen was serving a special menu of chicken pot pie made by the exceptionally talented Katy Peetz and Alex Leonard. A text from my friend Randy told me they might sell out, so I paused the soup-making to head over there. I think the only chicken pot pie I've ever eaten came out of the freezer in a tiny pie tin. To start was an apple and kohlrabi salad with Brazil nuts. The pie came out larger than expected and smelling of pure hot butter. I doubted I could eat it all by myself, so I planned on taking half home to Nick. Halfway through the pie, though, I wanted to take down the whole thing. Anticipating regret, I instead had it taken away from me to be wrapped up to go. I drank some glasses of wine, which were shared with me by fellow patrons at the bar. I think they might have been pretty fancy but I wasn't paying attention.
Back at home, I finished making the soup which we ate for dinner and now I can begin the New Year.
Friends in the neighborhood were hosting a lazy New Year's Day hang to share the gigantic haunch of an Ibérico ham that they were given for Christmas. Nick and I went by on the later end for some ham, wine, and coffee cake. A few left with a parting gift bag of ham fat.