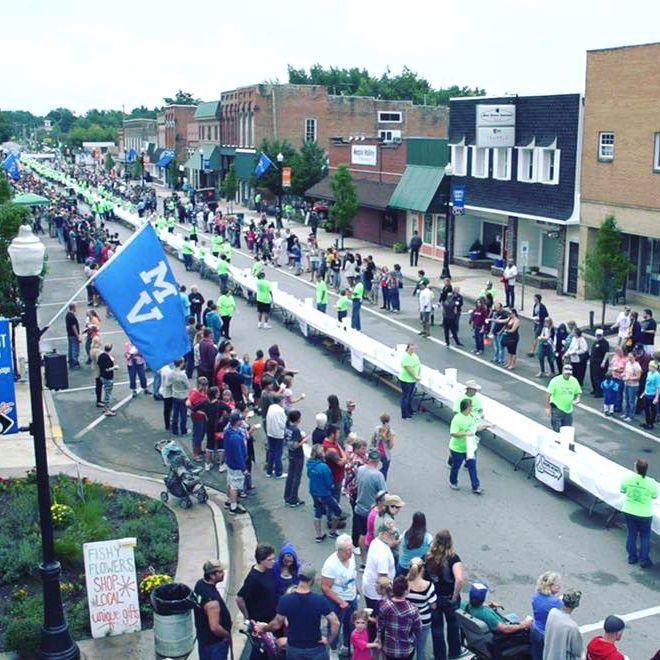 Photo: MOO-Ville Creamery/Facebook
While New York's so-called ice cream wars involve rival soft serve gangs fighting over territory and actual violence, Michigan's sundae battles are a bit more civil. In fact, two rival towns are simply vying for the record of world's biggest sundae. It all started this past summer when residents of Ludington, along with the excellently named House of Flavors, assembled a 2,970-foot-long sundae that broke the Guinness World Record.
However, unbeknownst to House of Flavors, spies from its soon-to-be rival, Moo-Ville Creamery in Nashville, Michigan, had made the two-hour drive north to Ludington in order to scope out the scoop situation, at which point Moo-Ville began plotting its next move: topping the brand-new record.
There was just one problem: No street in Nasvhille was long enough to accommodate such a massive sundae. So folks instead built parallel sundae tracks and assembled the necessary ingredients: 852 gallons of vanilla ice cream, 36 gallons of chocolate syrup, 56 gallons of strawberries, 172 cans of whipped cream, and 7,200 cherries. All in all, it took 250 volunteers and a day and half of churning. But in the end, Moo-Ville preserved, smashing House of Flavors' record with a sundae that officially measured 3,656 feet long, which was granted the official record in December.
However, like the basketball player who realizes his best days are behind him, Moo-Ville insists it will not reenter the fray should another ice-cream shop challenge the record. It has accomplished everything it has set out to do and will retire with its dignity intact — or so they say. The residents of Ludington now have the rest of winter (which is, you know, cold in that part of Michigan) to plot out the course for a new sundae next summer.