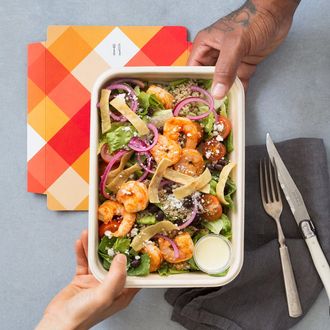 More bad news.
Photo: Courtesy of Munchery
Delivery start-ups were supposed to be the food world's salvation, but so far it hasn't worked out that way. Chef-driven Munchery has laid off 30 employees in San Francisco, a move that follows reports it's faced difficulty becoming profitable and thrown away millions of dollars worth of meals it couldn't sell. CEO James Beriker spins the move as necessary for streamlining, and tells the San Francisco Chronicle that the company has no plans for further layoffs and that it sees a "demand for our product across the whole U.S."
Recent data, though, suggests that nearly every customer bails on the meal-delivery kit of his or her choice after six months. Which is to say that Munchery is hardly the only food delivery startup that's struggling. Even the David Chang-backed Maple, the darling of the brave new world of food delivery, has a hard time turning a profit, according to a report released in December. The company appeared to have lost money on the average meal it delivered in 2015, posting an operating loss of $9 million that year, before getting food costs under control and turning a small profit on meals by March 2016.