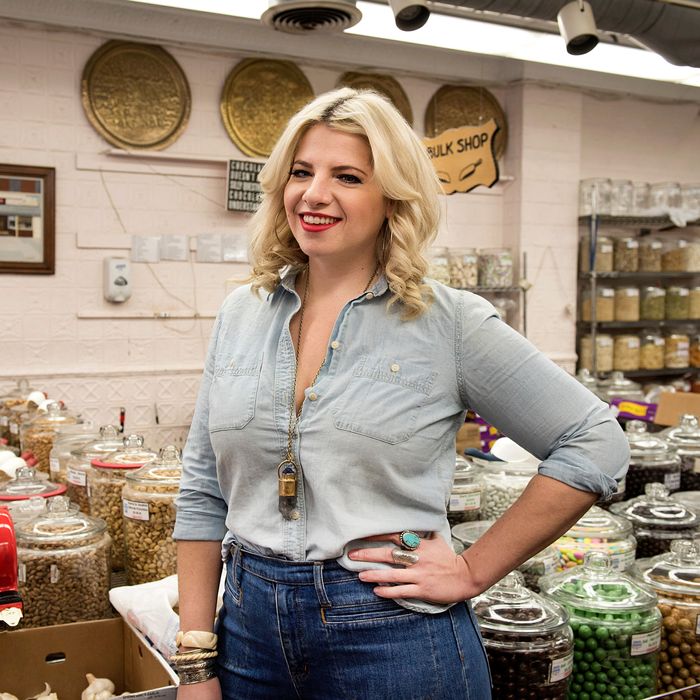 At Sahadi's, a neighborhood favorite.
Photo: Liz Clayman
Jordana Rothman has long had an illustrious career — working as an editor at Time Out New York, authoring a cookbook with Alex Stupak, and writing for countless publications (including, on occasion, Grub) — but she recently stepped into a particularly exciting role: the restaurant editor of Food & Wine. This means that Rothman is bouncing around the country to try new restaurants, and this week, she split her time between Charleston and her New York home. Read all about it in this week's Grub Street Diet.
Thursday, January 5
I wake up very early, as I always do, and put some oatmeal on the stove with milk and cinnamon. I leave the kitchen to tend to other morning ministrations, which turns out to be careless because I scorch the dickens out of the milk. But I eat the oats anyway, mixed with leftover acorn squash purée, comice pear, dried apricots, etc. I put sprouted pepitas on everything, so there are also sprouted pepitas.
I do some work, wrestle down the inbox and pack for my trip to Charleston while listening to a Bowery Boys podcast about Truman Capote's 1966 Black and White Ball. I know I'm going to be assaulting my body with rich food for the next few days, so I want to eat something healthy before I head to the airport. I don't have anything super fresh at home since I'm traveling so much lately, so I open a tin of smoked sardines and chop them up with blood orange, parsley, Castelvetrano olives, and egg, and then I eat all of that on buttered toast and it's so delicious. I'm very impressed with myself. My body is a temple right now. Om shanti shanti.
So I get to the airport and buy candy. I have no willpower in the face of brightly colored sour things. I will suck the citric acid off of Sour Patch Kids until my tongue is an electric Kool-Aid–colored slab of 60-grit sandpaper. But I can't do that today because it ruins my mouth for tasting real food and I have a big dinner planned tonight. So I go for chewy Sweet Tarts instead and hide them from my friend Jenny who is meeting me at JFK, because she's the kind of person for whom a granola bar is an airport indulgence, and also because I am darkly territorial of my candy. But Jenny is a very special friend of mine — we lost someone we both loved to brain cancer in 2011, and each year we try to learn something together or share an adventure to honor our friend's memory. We taught ourselves to weld, we took a Japanese shibari course, we go to Burning Man together … this year we're going to Charleston and eating all of the things.
Hang on a sec … if I'm honest, back at the airport in New York I also ate Bugles, a grossly undervalued snack food. On my birthday, I pipe in crème fraîche and top them with caviar and chopped parsley stems and call them Horns of Plenty. But today it's just the naked Byoogs. Had to get that off my chest.

Anyway, Jenny and I get to the Dewberry hotel in Charleston and eat some cheese from this great local shop goat.sheep.cow in our room and drink wine. We head to McCrady's to check out the new tasting menu, and we have a fantastic meal. Too much to detail here, but I really loved the cobia with a green peanut and lovage sauce that looked like a psychedelic stereogram when it was poured tableside. After dinner, we walk down to Cane Rhum Bar for a nightcap and I sniff around a locked cabinet of what looks like contraband bottles.
Friday, January 6
I eat a handful of marcona almonds and drink tea at the Dewberry before heading out on foot. I want to taste the sticky buns at Wildflour Bakery, but when we get there, we discover they are only available on weekends. So instead we try a sweet turnover and a pimento cheese pie, and two comically gigantic hot coffees. We have more coffee nearby at The Daily from the Butcher & Bee people — this one is sweetened with sorghum — and we take a few bites of a tahini-honey toast with benne seeds. We walk over to that cheese shop goat.sheep.cow because they do a "monger's choice" grilled cheese which I think is such a good idea. Today it was gooey Scimudin di Capra from Lombardy with piquillo peppers, on sourdough from Root Baking Co. — made with grains that are grown and milled in the southeast. And then, you know, it's time for lunch.
We walk over to Lewis BBQ with the promise of brisket and hot guts in our hearts and discover that it is closed for the week. I sit in the garden and sulk for a few moments before rerouting to this new chophouse place, Little Jack's, where Jenny and I share a tidy little tavern burger with sunchoke relish that makes me happy again. We drink martinis, which are, by default, made to my preferred ratio of 50/50 gin/vermouth. They are also served shaken, which is madness, but I don't mind today because the owner Brooks Reitz tells me this is how his Kentucky grandmother drank them and that's good enough for me. Brooks walks us over to his other place, Leon's Oyster Shop, and we all drink green grasshoppers with chocolate sprinkles by the fireplace and gossip like a buncha Kentucky grandmothers. We laugh a whole lot and it is my favorite moment of the day.
Jenny and I peel off to find La Morra, a mobile wood-oven pizza outfit from Zach Swemle, who put in time at Delfina in San Francisco. His rig is so magical, it looks like something you'd push a witch into in a fairytale. Zach feeds us a pie with 'nduja and lets us drink his beer. We bring the rest of the pizza back to the hotel and change for dinner while listening to a You Must Remember This podcast about Charlie Manson's Hollywood. Light-hearted preprandial stuff.
For dinner, we head to Le Farfalle. I've been obsessed with Michael Toscano's pastas since I first tasted them at Manzo inside Eataly NYC in 2010, so I was giddy anticipating this meal. He served us a version of the sugo d'arrosto I remember tasting at Manzo; at Le Farfalle, it was with duck confit agnolotti and local mushrooms. It was so rich and magnificent, and actually a rather emotional experience, as I thought of where I was in my life when I first encountered these flavors years ago, and the squiggly line of pleasure and tribulation that has connected these two points in time. A good plate of pasta can do things to a girl. We finish with a sip of High Wire's very special Jimmy Red bourbon, which is made with a Carolina corn varietal that was rescued from the brink of extinction with just two cobs. Cool!
Saturday, January 7
Jenny and I wake up and eat some of the leftover La Morra pizza in our hotel room. We head to the airport and have coffee, and pass the time during our flight delay making each other laugh. It is snowing in New York when we land; we hug good-bye and I head back to Brooklyn, stopping at my favorite bulk-bin wonderland, Sahadi's, on the way. I buy dates, and some dried plums, yogurt, and labneh, and when I get home I pile most of those things on toast with tahini, olive oil, and pepitas. I also make black tea with milk, a spoonful of raw, white honey from Société Original, and a spicy chai blend of clove, cinnamon, fennel seed, ginger, and cardamom from Babu Ji. It's snowing pretty hard now, but I'm expected at a dinner in Bed-Stuy and it takes a lot for me to cancel plans. I put on my snow boots and a warm coat and waddle to the wine shop like everyone else on Saturday. Outside, a man has slipped and smashed a few bottles of tempranillo all over the sidewalk, and the red wine against the white snow is morbidly beautiful, so I stare at it like that creep in American Beauty for a few spooky moments until a neighborhood guy asks me what the hell I'm doing and I take that point.
I've had some memorable cooking experiences with my friend JB — a few years ago, he pioneered the sausage-stuffed "squashage" which is still the stuff of Rothman dinner party lore. But he and his wife just had a baby, so tonight is all about testing the limits of canned food: razor clams, smoked oysters, octopus in paprika sauce, mussels drenched in oil, canned Pinot Gris from Underwood, tinned tom yom soup, whole Kadota figs in syrup. It's all tasty and fun to eat, even the soup, which JB doctors with canned coconut milk. I snorfle their cute baby and take off early, high on omega-3s. I have another friend in town from D.C., so I stop by to see her on my way home, and we eat some shakshuka and green tahini. We wait out the Uber surge trying on wigs, tutus, and lamé to find something suitable to wear for our friend's upcoming Vegas wedding.
Sunday, January 8
I'm up early and out the door to have breakfast at Le Coucou with the Rick Ross of food photography, Daniel Krieger. Mr. K and I share a pot of French press and I make a big to-do about the adorable bird-shaped cups that hold my soft-boiled eggs. Later on, I meet a few friends and we have Mile End matzo ball soup delivered. There's also chicken liver and latkes to share, and for dessert, I break out some cardamom halvah from Seed + Mill at the Chelsea Market. The rest of the day is all about life and home maintenance, so I don't get a chance to eat much.
I try to go to bed early but I wake up in the middle of the night and can't sleep, so I head into the kitchen to perform my favorite food-prep meditation — making aïoli. Transforming egg yolks, lemon juice, and oil with nothing but a whisk and patience is incredibly soothing for me. You know you're doing it right when the wobbly bit under your arm is really smacking against your side. I understand that not everyone has a wobbly bit under their arm. But then, not everyone meditates with mayonnaise. Once it is nice and thick, I season it with a spice blend I made with Lior Lev Sercarz at La Boîte and eat it with some English cucumbers. I try to teach myself all of the lyrics to "Electric Relaxation," which tuckers me right out (forgive me Phife), and I go back to bed.
Monday, January 9
Up early again! I eat more of last night's aïoli and cukes, scoop out the guts of a grapefruit and squeeze the rest into a glass and drink it. I head to work at Food & Wine HQ at Brookfield Place. The office experience is such a delight for me after freelancing for so many years, which could get lonely. I love being around warm, brilliant people all day, and it blows my mind that I get to sit sandwiched between Kate Heddings and Ray Isle, legends in my eyes. I put my head down for a few hours to get through some work, and then walk down to Le District to have lunch with my rock-star colleague, Elyse. We talk shop and I eat what is essentially a finger sandwich, salami and hard cheese on a teensy baguette, really the perfect portion. Later in the day I swing by the test kitchen to Oliver Twist some treats from Kate and Justin Chapple, who are perfecting recipes for an upcoming story. There are cookies involved.
After work I meet my BFF Maisie for martinis at Keens. I really make it a point to show up for the city's dining institutions. It bothers me when they close, and the same people mourning the place could have saved it. Old–New York lip service is meaningless; you must support the places that give this town its character, or they disappear. So we drink martinis and eat oysters, and try to elegantly split a burger. More friends show up, including my pals Lawrence and Gloria, and the great chef Jordan Kahn who is visiting from L.A., where he just opened his minimalist breakfast spot, Destroyer. I'm still hungry when I get home so I make some stracciatella — Italian egg drop soup — with some broth and a hodgepodge of vegetable bits scavenged from the fridge.
Tuesday, January 10
No time for an elaborate breakfast this morning! I eat a fuyu persimmon standing over the sink and head to the office. I'm hustling all day and I have a big dinner tonight, so I just snack on fruit and rosemary nuts that came in a holiday package from the new Union Square Café.
I rush out of the office and over to Günter Seeger in the West Village for dinner with a few writers hosted by Daniel Boulud. Günter and DB go way back, and it's so fun to watch the interplay of their very different energies. It's a totally over-the-top extravagant meal that includes a quail galete de reine with ten whole black truffles baked in. I feel that I should eat this like ortolan, under a veil to shield my decadence from the eyes of God. But I just eat it the normal veil-less way. We drink a double magnum of Rioja and sit around the table listening to these two titan chefs rap about Jean-Louis Palladin and the good old days, while the candles burn low. It is an incredibly special evening, and I leave full of gratitude and not a small amount of disbelief that this is my life tonight, and that there will be more of it tomorrow.
At home I watch Obama's farewell address and those peaceful feelings wither a bit. I think about making another aïoli but I don't do it. There are some things, I guess, that even mayonnaise can't fix.