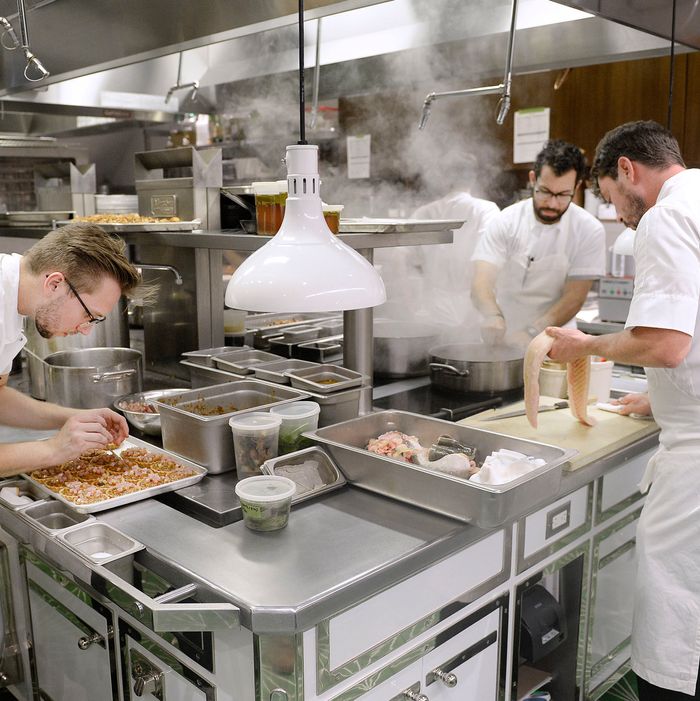 Photo: Olivier Douliery/AFP/Getty Images
When a group of restaurant owners from the Restaurant Opportunities Center United (ROC United) held their most recent virtual meeting, members shared their employees' fear of a Trump administration. "They expressed concern over the well-being of their employees, who are traumatized. And their concern over the feasibility of their businesses if Trump does enact all of these policies," said Sheila Maddali, co-director of the Tipped Worker Resource Center at ROC United.
So in early January, members of ROC United's national restaurant employer association, RAISE, wrote a letter to President-elect Trump asking for a pathway to citizenship. Inspired by their members' courage, and their willingness to use their collective voice, ROC's leadership banded together with Presente.org, the nation's largest Latino online organizing group, and launched the Sanctuary Restaurant campaign.
In just two weeks—and without publicizing the campaign—65 restaurants across the country signed on to become Sanctuary Restaurants, prominently displaying window signs that they are a safe place for undocumented immigrants, Blacks, Muslims, and the LGBTQ community. Restaurants span the country and include Coi in San Francisco, Lil's in Kittery, Maine, Honey Butter Fried Chicken in Chicago, and ROC United's own restaurant, Colors, in Detroit and New York City.
In addition to publicly committing to a zero-tolerance policy for racism, sexism, and xenophobia, these restaurants are part of a rapid response network that will offer strategies for protecting targeted workers and informational trainings on legal rights. They have also created a number employees can text if they're experiencing harassment or injustice: text TABLE to 225568.
ROC United's effort is just one of many like it. As Trump is sworn is as the 45th president of the United States, the restaurant industry is understandably on the front lines: Trump made it crystal clear during the campaign that he wants to deport all undocumented immigrants and build a wall between the U.S. and Mexico. This is serious news for restaurant workers, as the Pew Research Center estimates that at least 1.2 million in the U.S. are undocumented.
Chefs Take Action
In addition to longer-term planning to protect vulnerable communities from the Trump agenda, chefs across the country have taken the inauguration as an opportunity to do good in their own communities, by either welcoming them into their restaurants or hosting pop-up fundraisers for progressive causes.
Renee Erickson, the James Beard Award-winning chef from Seattle's Walrus and the Carpenter and Whale Wins, is hosting a fundraiser at her Capitol Hill hotspot, Bar Melusine, on January 20. Funds will go to the Anti-Defamation League (ADL), which fights anti-Semitism and all forms of bigotry.
In Portland, Oregon, Le Pigeon and Little Bird will donate 5 percent of sales on Inauguration Day to three organizations that provide legal services for new immigrants. The same day, Chez Panisse, Mission Chinese, Zuni Café, and 21 other celebrated Bay Area restaurants will each serve a dish using manoomin, the wild rice cultivated by the Ojibwe people. Proceeds from that dish will go to Honor the Earth, a nonprofit that works to revive indigenous food traditions and has been deeply involved in the resistance at Standing Rock. The fundraiser, called #FoodStand, will extend to the Good Food Awards, which take place in San Francisco over inauguration weekend.
Cookie Grab & Other Fundraising Efforts
Other actions are already underway. In Portland, Oregon, 21 female bakers and chefs participated in a "Cookie Grab" that raised $27,500 for Planned Parenthood Columbia Willamette. The pink boxes, costing $50 and containing 21 cookies, sold out within 24 hours.
"It was a truly amazing response that we did not expect," said Sarah Minnick, owner of Portland's Lovely's Fifty-Fifty and co-organizer of the Cookie Grab. "When the donation coordinator for Planned Parenthood called to see how she could help us promote the fundraiser, I told her we were already sold out and she cried."
Now, Minnick and co-organizer Kristen Murray, the chef and owner of Portland luncheonette Maurice, plan to do the Cookie Grab two times a year to generate money and excitement for Planned Parenthood. In Bellingham, Washington a group of bakers and chefs organized their own Cookie Grab in early January, selling all 75 boxes of cookies for $40 each in 24 hours, earning $3,000 for Mt. Baker Planned Parenthood Healthcare Center.
Organizer Cara Piscitello of Acme Farms + Kitchen says they already have plans in the works for a second fundraiser to mark Trump's 100th day in office. "Should any other crisis or extreme injustice arise before then, we are ready to take action and pitch in where we can," said Piscitello.
"A lot of people we love and support—our family and friends—are in groups that are potentially going to be ignored or treated poorly, based on the new administration," said Erickson. She chose the ADL as her charity for its longstanding commitment to protecting civil rights for all. The group's efforts cover a broad range, including cyberbullying prevention workshops in schools across the country.
"There are so many issues and this one covered the most bases," said Erickson. The ADL looks out for all people who might experience discrimination or hate." She added that the fundraiser at Bar Melusine is an open house party—there is no exclusive invite list or $200 per plate fee. "This way we can invite people from all parts of our lives—some that will give lots of money and some who will give nothing at all, but who will be supportive."
In addition to asking guests for donations, Erickson and her staff will auction off works by prominent Seattle artists Curtis Steiner and Jeffry Mitchell. Erickson's main suppliers—Hama Hama Oyster Co., Willowood Farms, and Sea Wolf Bakers—are all donating food to the event; cases of wine and liquor will also be donated.
In Washington, D.C., an all-volunteer initiative called All in Service has recruited 124 restaurants and retailers to donate a percentage of their profits from inauguration weekend to local charities. Establishments include places like Tryst, Momofuku CCDC, and Glen's Garden Market; charities will range from those that support the local migrant community to LGBTQ issues and homelessness.
Also in D.C., on January 19 and 20, Italian café and food emporium Via Umbria in Georgetown will host a $25 cocktail class, "Cheers to Powerful Women," that will feature classic American cocktails inspired by powerful American women. All profits from the classes will go to Planned Parenthood. Pizzeria Paradiso's Dupont Circle location will be serving pints from women-owned Denizens Brewing Company; 100 percent of all proceeds will go to the League of Women Voters.
Instead of fundraising, Seattle chef Josh Henderson is opening up two of his restaurants on inauguration day to feed the houseless or any Seattleite who needs a free hearty meal. "Trump represents disunity. I just want to show that there are people who represent the opposite of that. That there's love and hope," said Henderson. The restaurants, Quality Athletics in Pioneer Square and Canteen in South Lake Union, will serve spaghetti and meatballs, Caesar salad, garlic bread, and apple pie on Friday afternoon.
Most chefs are quick to say that doing good is not a partisan issue—or shouldn't be. "No matter what our guests' political beliefs are, they are welcome in our restaurants," said Le Pigeon co-owners Gabriel Rucker and Andy Fortgang in a statement explaining their choice to donate to local immigrant rights groups. Yet, the statement continues, the climate for immigrants could be more hostile with the incoming administration. "The restaurant business has always been a major employer of immigrants and it is a group we care deeply about. Helping others is not a protest—it's what we feel is the right thing to do."
Even so, there's bound to be pushback—customers who will insist they don't go to restaurants for political reasons. But Katherine Miller, executive director of the Chef Action Network and senior director of food policy advocacy at the James Beard Foundation, thinks it's wonderful that so many restaurants are finding creative ways to be there for their employees and all customers during a time of fear and tension.
"Restaurants are your communities these days. These chefs are leaders in their communities," said Miller. "They're really showing their support for American values—the things that make us great as a country."
This post originally ran on Civil Eats.