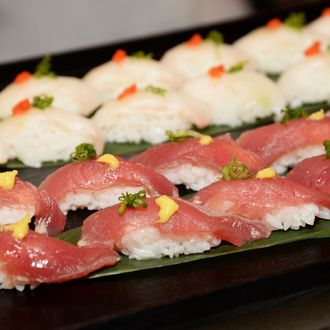 Might require some close study.
Photo: Michael Kovac/Getty Images
Anyone dying to see how out of control fish fraud's gotten these days can apparently just visit their favorite L.A. sushi house for a 50-50 shot of experiencing it firsthand. A new, four-year-long study from researchers at UCLA and Loyola Marymount University found that just shy of half — 47 percent — of 364 fish samples at the city's sushi restaurants were mislabeled. They note they weren't expecting fraud to be that widespread, partly because they picked 26 spots with high Yelp and Zagat ratings to collect their samples.
Regardless, yellowfin tuna wasn't yellowfin seven out of nine times. Co-author Demian Willette suggests eating salmon ("salmon is almost always salmon" — or was here at least, about 90 percent of the time), but they advise avoiding halibut and red snapper like the plague. "Out of 43 orders of halibut and 32 orders of red snapper," the study notes, "DNA tests showed the researchers were always served a different kind of fish."

The findings are depressing, but things didn't turn out so bad for UCLA biology students. For four years, they got to serve as the "researchers" who visited these top-rated sushi spots to "collect samples." That beats shrimp-flavored Cup Noodles any day.