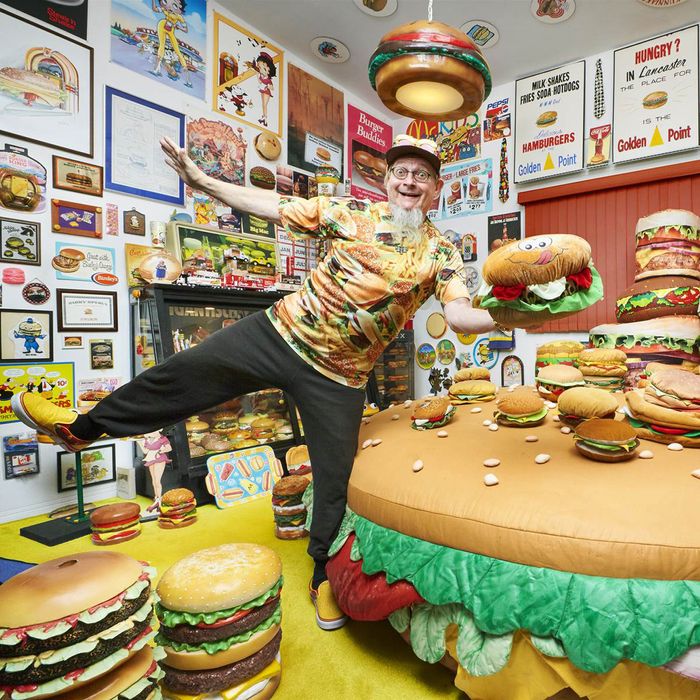 Look at this guy.
Photo: Guinness World Records
A Florida man who goes by Hamburger Harry has realized his dream of having the 3,724 individual pieces of burger merchandise he owns finally recognized as the "Largest Collection of Hamburger-Related Items" known to humankind. Guinness World Records made it official this week, though it's obvious their photos and two-and-a-half-minute video still didn't do justice to this vast plethora of memorabilia.
Harry claims the infatuation began "by accident" 26 years ago, when he bought a set of plastic burgers to display on a vintage car tray he was trying to sell. "A friend of mine walked into my office and said, 'Hey Harry, are you collecting hamburgers now?'" he explains. "And I said, 'No, I don't. But maybe I should.'" The obsession eventually arose from a belief that American culture would sort of be adrift without the hamburger — an astute yet also very alarming insight.
Among the stuff he's somehow packed into his Daytona Beach home are like a bazillion burger trinkets, enough apparel to hold a burger-themed runway show, multiple walls' worth of burger posters, a life-sized Ronald McDonald statue, a $3,500 burger water bed, and also a "normal" burger bed, because why not. His prized possession, though, is probably his 1987 Harley. It's encased in a fiberglass burger, has pickle handlebars and ketchup-bottle shock covers, and took two years to build.

He tells Guinness his next project is "a proper home where his burger items can live," an official burger museum shaped like a double bacon cheeseburger.