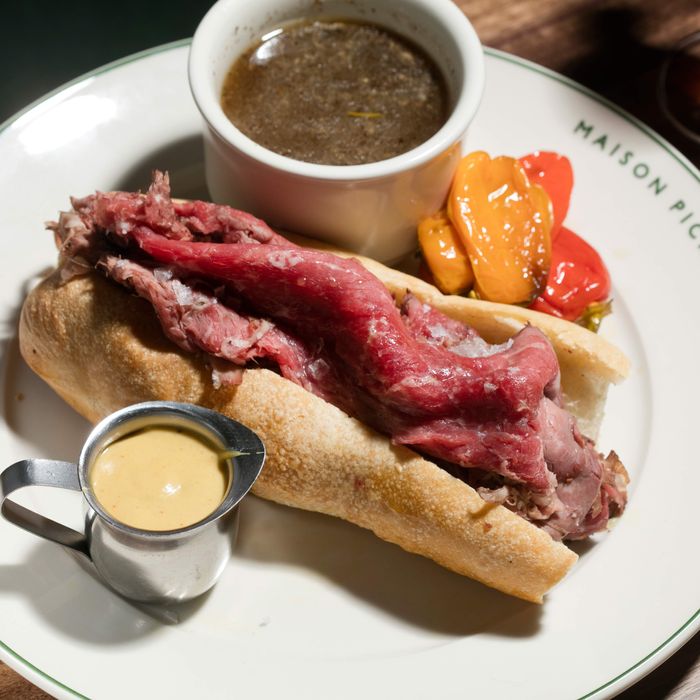 Maison Pickle's Classic French dip.
Photo: Melissa Hom
What's better than a restaurant with a French dip on its menu? A restaurant with five French dips. That is the thinking behind Maison Pickle on the Upper West Side, where the storied sandwich hogs some prime real estate on the bill of fare alongside a bunch of other all-American upscale comfort food (from fancy deviled eggs to flounder Rockefeller). And why not? Cole's P.E. Buffet and Philippe the Original, the turn-of-the-last-century Los Angeles restaurants who contentiously claim to have invented the idea of plopping roast meat on jus-moistened "French" rolls and serving them alongside cups of pan juices, both traffic in multiple variations on the theme.
Jacob Hadjigeorgis, who also runs Jacob's Pickles nearby, believes that, 110 years later, the time is right for New York to follow suit. And so Maison Pickle's five French dips include a classic, a "deluxe" with Gruyère fondue and fried onions, another topped with a slab of seared foie gras, plus lamb and pork versions. The restaurant officially opens Saturday but has been in what restaurateurs like to call "soft-open" or "friends and family" mode, which means that anyone passing by can usually weasel his or her way in for a sneak preview, which is exactly what we did the other night. The verdict: Even at this early stage, it's well worth a visit for French dip aficionados, as well as elevated-comfort-food addicts in general. Classic-cocktail sippers will like it, too. Take a look at some of the food and the space.