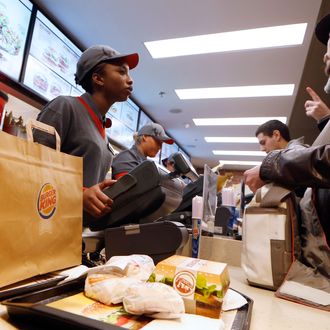 Workers are now a hot commodity.
Photo: Thomas Samson/AFP/Getty Images
For once, prospects don't look so bad for the people in fast food, and that's not just because so many companies are handing out pay raises: America's unemployment rate right now is very low, meaning that the job market's also pretty tight. In a sign of how desperate employers have gotten, Bloomberg says the big chains are now "embroiled in a full-on food fight" over workers. The story notes this group more familiar with wage theft is suddenly being lavished with referral bonuses, free meals, and sometimes even better hourly pay.

Back in September, an industry tracker found that the industrywide turnover rate for restaurant workers had climbed up to 113 percent, the highest since 1995. To make rival pastures look less green, then, franchisees are biting the bullet and going for broke. One McDonald's owner is giving employees free food and paid days off, and Bloomberg mentions how Pilot Flying J — the truck stop chain that always seems to have a Subway or Arby's inside — couldn't poach a Wendy's manager by offering her more money and four weeks paid vacation because Wendy's already promised quarterly bonuses and other perks. Her boss had decided to take what the story calls a "pulling-out-all-the-stops" approach to employee retention:

Over the last year, Eddie Rodriguez, who operates 177 Wendy's in Florida, New Mexico, and Texas, raised hourly pay by nearly a dollar, to an average $9.05.

Rodriguez gave referral bonuses of up to $250 to employees who found prospects. He offered more flexible schedules and used his own headhunters to find staff for his corporate office in Pompano Beach, Florida.
Chipotle is also mulling pay increases to help fill about 600 open spots at its restaurants. It's a move that also underscores the trend's dangers on the business side: To up pay, Chipotle would really need to hike menu prices for the first time since 2014, a move Bloomberg says it's "considering" doing.