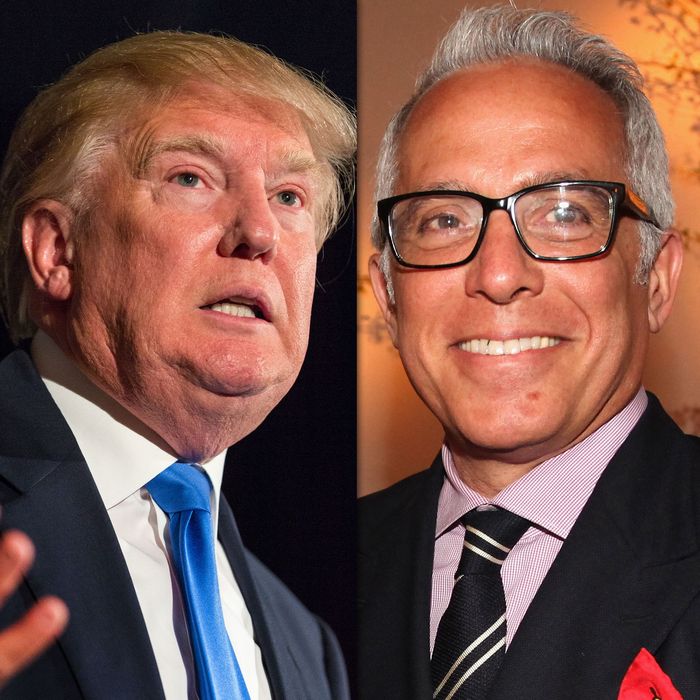 Don't expect a Trump cameo on Chopped.
Photo: Richard Ellis/Getty Images; Donald Bowers/Getty Images
As the latest reminder that America's next president will almost certainly enter the Oval Office openly suing citizens he represents, a Trump Organization lawyer yesterday told a judge that settlement talks have reached an "impasse" with chef Geoffrey Zakarian, who incurred the president-elect's wrath last August after scrapping plans to open an outpost of the National in Trump's new D.C. hotel following the mogul's "rapists" comment about Mexicans. Zakarian and fellow ex–Trump International partner José Andrés both argued the comment in question jeopardized their restaurants, and after months of negotiations, Zakarian's lawyer told D.C. Superior Court judge Brian Holeman she also agrees they've hit a wall. Trump's plans are therefore to carry on with the lawsuit, which will now kick off with a pretrial hearing in May.
Trump originally demanded $10 million from both Zakarian and José Andrés for their alleged breaches of contract, but the Washington Post notes the amount of damages has also grown, at least for Zakarian: "In recent court filings, however, Trump's representatives raised the estimated loss to about $14 million."
Last month, the judge in Andrés's case rejected Trump's claim that answering Andrés's lawyers' questions somehow amounted to harassment. The president-elect is therefore set to be deposed for hours in New York next week, mere days before his own increasingly depressing-sounding inauguration.