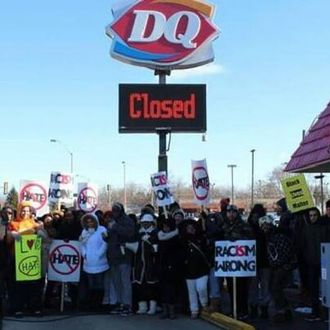 Protests turned into "a celebration of sorts."
Photo: Courtesy of Deianeira Ford
Dairy Queen says it has terminated its franchise agreement with an Illinois owner following his decision to shout the N-word at a customer and her two children. James Crichton used to run a location in Zion until last Friday — two days after Deianeira Ford placed a drive-through order for her kids. The store got her order wrong, so Ford asked them to fix it, but Crichton refused and "things spiraled," according to the Washington Post.

Ford then demanded a refund, and Crichton reportedly agreed, but gave her a few extras, too, the Post reports:
The officer who wrote the report said Crichton showed no remorse:

"Crichton boastfully told me he would be happy to go to jail over the issue and proudly admitted to calling Ford a n——. He added that he is 'fed up with black people,'" and described an incident in which two "of them" were in his restaurant squirting ketchup all over the floor, according to the officer's report.
Despite him using the word "freely to describe black people," police told Ford it wasn't a criminal act, so there wasn't much they could do. Ford took to Facebook instead, where her post quickly exploded. While she says the site deleted the original for some reason, her updates have received plenty of attention:

It didn't take long for Dairy Queen's headquarters to take action. It released a statement Thursday that called Crichton's behavior "inexcusable, reprehensible, and unacceptable," and then, on Friday, the chain announced that Crichton's restaurant would close, effective immediately, and "not reopen as a Dairy Queen unless ownership changes at that location." Crichton has now apologized as well and vowed to undergo sensitivity training, adding: "I have let my family, friends, employees, our system and this community down with what I have done."
Black Lives Matter spent the weekend protesting outside the shuttered store, and Ford's attorney Renea Amen says that they might still come for Dairy Queen in court because other customers and workers have started recounting "racist comments and discriminatory mistreatment" of their own. She tells the Post this is a sign that "those days are gone where businesses and business owners can mistreat people and just say 'I'm sorry.'"