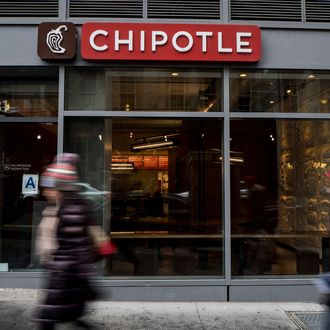 They should be relieved they didn't give her E. coli.
Photo: Andrew Renneisen/Getty Images
A California woman wants Chipotle to pay her more than $2 billion — billion!— for allegedly using her picture without permission to sell burritos. More precisely, Leah Caldwell is seeking an amount in excess of $2,237,633,000, which Denver 7 reports is what her lawsuit claims the chain has "made" off her photo since it was taken by the food photographer Steve Adams in 2006.
Caldwell claims Adams snapped the pic without warning while she sat at a Denver Chipotle, then says she refused to sign a release form authorizing use on her way out. The suit suggests she spent eight naïve years thinking she'd beaten this unscrupulous Adams character, only to stumble upon her photo in some of Chipotle's promo materials at a Florida store in 2014 and two Sacramento locations in 2015. (As a side note, Leah "Multistate Regular" Caldwell's anger seems to stem partly from the fact that alcohol was also Photoshopped onto the table in front of her.)
Her complaint explains that the ten-digit figure for damages only reflects the profits Chipotle made "between 2006 and 2015," so they'll naturally need to update the amount for 2016. Luckily, math that simple can be done on a legal pad as they enter the courtroom.