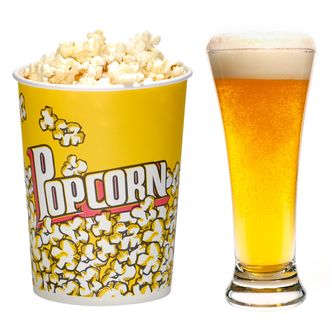 Time to slake that thirst with something besides soda.
Photo: Getty Images
Hero Governor Andrew Cuomo is once again fighting for New Yorkers' God-given right to drink alcohol. Not satisfied with the booze he awarded the Sunday-morning brunch crowd, he's now come to the rescue of moviegoers prone to sneaking flasks into the cinema. In the 2017 budget he proposed yesterday, Cuomo calls on the State Liquor Authority to issue beer and wine licenses to all theaters statewide, and then "incentivize" the libations in particular from New York breweries and wineries, which thankfully are growing in number every day. Right now, the only theaters that can sell any sort of alcohol are the dine-in type that have kitchens attached, like Nitehawk or Alamo Drafthouse (and that only came after a protracted legal battle).

Sales would only be approved to ticket holders of movies rated PG-13 or higher, and they could only buy one drink at a time, presumably to discourage these kinds of incidents. It's also unclear how seriously state legislators plan to consider the idea, and it's definitely just beer and wine, alas — Cuomo apparently draws the line at washing down Raisinets with hard liquor. "Let's not go too far," he told reporters.