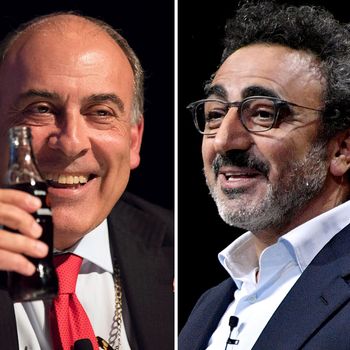 Coke's CEO Muhtar Kent and Chobani's CEO Hamdi Ulukaya both grew up in Turkey.
Photo: Eitan Abramovich/AFP/Getty Images; Mike Windle/Getty Images
Add two more multi-billion-dollar food businesses — Coca-Cola and Chobani — to the list of companies condemning President Trump's executive order banning people from Muslim-majority countries. On Sunday, Starbucks CEO Howard Schultz took the first public shot, announcing the chain would respond to "confusion, surprise, and opposition" of the ban by hiring 10,000 refugees over the next five years — a move that made Trump supporters vow in droves to boycott cafés.
Coke CEO Muhtar Kent has now also released a statement explaining "we do not support this travel ban or any policy that is contrary to our core values and beliefs." He adds: "As a U.S. company that has operations in more than 200 countries and territories, we respect people from all backgrounds and greatly value the diversity of our global system's more than 700,000 associates." He's promising to assess the potential impact on those employees and "provide them with appropriate support as needed."
In a memo obtained by Bloomberg, Chobani's founder and CEO Hamdi Ulukaya has blasted the ban as deeply concerning, too, though that shouldn't really come as a surprise. Ulukaya tells employees it's actually "very personal" for him not just because he's an immigrant from Turkey, the same place Kent grew up, but also because he's made a point of hiring hundreds of refugees at Chobani (or, as the alt-right sees it, trying to "drown the U.S. in Muslims"). As he writes in the memo: "It's very difficult to think about and imagine what millions of people around the world must be feeling right now. America has always been a symbol of hope, tolerance and diversity — and these are values we must work very hard to uphold." He says they've dispatched an HR team as well as attorneys to gauge the ban's effect on employees, and "have their backs every day and every step of the way."