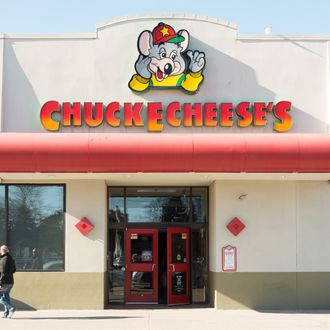 Welcome to the Triple Comma Club?
Photo: Roberto Machado Noa/LightRocket via Getty Images
Those germ-infested ball pits might as well be Scrooge McDuck's money bin. Chuck E. Cheese's is reportedly gearing up for an IPO that could somehow value this well-known haven for crime and animatronic nightmares at "more than $1 billion," Reuters reports. That valuation would include 598 restaurants plus another 144 locations of Peter Piper Pizza, a family-friendly buffet chain that's kind of a Chuck E. Cheese's Lite.
Popular for a hot second after Atari co-founder Nolan Bushnell created it in 1977, the chain's made a variety of iffy business decisions in the four decades since. It filed for bankruptcy in 1984, has changed names three times, hired Bowling for Soup's front man to voice Chuck E. in the year 2012, blew $19 million on Discovery Zone's erstwhile "fun centers" in 1999, and was purchased in 2014 by current owner Apollo for $1.3 billion. Since then, it's rebranded itself, added Wi-Fi and lattes, and still managed to lose money every quarter. Last February, Moody's downgraded its bond rating further into junk territory.

And rival "entertainment center" chains are actually doing just fine — Dave & Buster's is tearing it up right now. Chuck E. Cheese's isn't telling investors how their dollars might be ensured of similar success yet, but the chain's CEO did suggest back in June that it hinges on beating "the mom-and-dad veto."