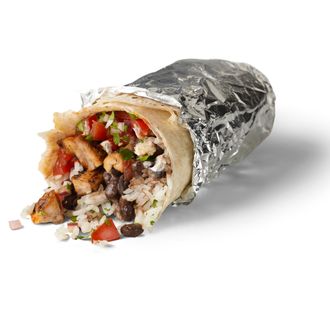 Soon to be more guilt-free.
Photo: Chipotle
Chipotle is adopting a set of new chicken-welfare standards that finally catches it up to rivals like Starbucks and Panera, whose mottos are not "Food with Integrity." The company says that by 2024, it will source all its chicken meat from producers that use breeding programs that promote better animal health, give birds more freedom to roam around, and slaughter them more humanely.
According to a release, the initiative has four goals:

(a) Improved breeding. Transition to strains of birds bred for measurably improved welfare outcomes.

(b) Providing more space. Provide animals with more space by reducing maximum stocking density to 6 lbs. per square foot.

(c) Living conditions. Provide chickens with housing that includes improved lighting, litter, and floor enrichments that allow chickens to express natural behaviors.

(d) Slaughter. Process chickens in a manner that utilizes a multi-step controlled-atmosphere processing system.
What this effectively means on the supplies front is that, just like Starbucks and Panera, Chipotle will quit using so-called "fast-growing chickens," a sort of industry euphemism for broilers that reach twice the size in half the time that their mid-century counterparts did, but often develop leg disorders, heart problems, and product defects like "woody breast" as a result.

The chain adds that it worked with Compassion in World Farming USA and the Humane Society to set the new standards. Because it buys so much chicken (140 million pounds a year), it's also giving suppliers seven years to institute the changes along the whole supply chain. It might all seem like foot-dragging for a burrito-maker that nixed carnitas two years ago because of one supplier's standards violations, but once in place, the new set will also require producers to be okay with compliance audits by Chipotle's intense-sounding "internal Animal-Welfare team."