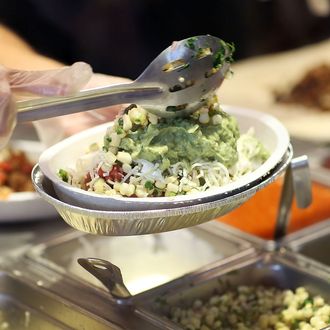 E. coli can't get anywhere near this burrito bowl.
Photo: Joe Raedle/Getty Images
Chipotle's sales numbers are, you guessed it, still in decline, but at least credit the company's unfaltering stamina: In a press release yesterday, it announced yet another round of food-safety changes at its 2,200 stores, and this time not even the air particles are being left to chance. The chain says it's equipping all locations with "breakthrough" technology that can "literally take pathogen sources out of the air."

Industry trade mag Fast Casual reports Chipotle has spent three months testing this tech, a variety of devices made by Florida-based food-sanitation company RGF Environmental Group. One is a seemingly intense air-purification system that the manufacturer vows will suck "airborne and surface bacteria & viruses, such as MRSA, E. coli, and Norwalk" clean out of the air, if necessary, using "patented Photohydroionization" technology. Another apparatus destroys listeria and other bugs that live in ice machines without any chemicals. Then there's the very ominous-sounding Food Surface Sanitation Tunnel, a third contraption where meat's conveyored under "strategically placed" ultraviolet light emitters prior to packaging or processing, killing any potential pathogens. Chipotle would have tested them in its commissaries, now that these steps occur before ingredients arrive in stores.

Coincidentally, Chipotle told investors today that "higher expenses … than it originally forecasted" help explain why end-of-2016 sales are poised to drop 4.8 percent, its fifth-straight quarter of declines.