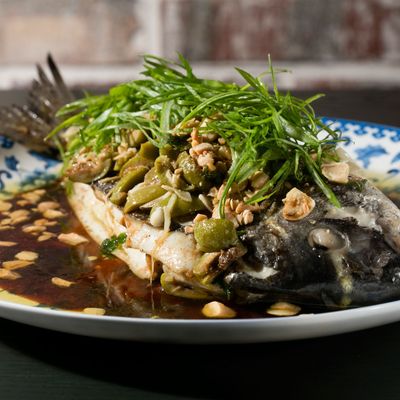 Dale Talde's whole fish with olives, capers, ginger, and scallion.
Photo: Melissa Hom
You have to start with noodles, of course, which have been the most obvious link between the cuisines of Italy and East Asia for at least a few centuries. Long, thin strands of springy dough are the foundation of some of the world's most important dishes, and even though Japanese food and Italian food may not seem entirely compatible at first, there are many shared sensibilities beyond noodles, like a love of umami and pristine ingredients. Yet it's only been recently that chefs in America began to openly explore the true extent of this connection, working toward something like a newfangled Italian-Chinese-Japanese fusion.
"I've been eating ramen noodles for over 45 years," says Hisanobu Osaka, the current chef at Chicago's Intro, which he's fashioned into a "Japanese-style" trattoria. "I started thinking, 'What if I made homemade ramen dough, and changed the shape of ramen noodles to a pasta noodle, like rigatoni or agnolotti?" The result is a noodle that has the telltale chew of ramen, and the sauce-clinging abilities of Italian pasta, which Osaka serves with braised pork belly and scallions. "It's exactly like a ragù," he says.
In Japan, there is a long-established fascination with itameshi, or Italian food — a mingling of cultures that makes sense to lots of chefs. David Chang hit upon something similar, adding some pronounced influence from a famous Chinese dish, when he started mixing gnocchi-like rice cakes with ragù based on mapo tofu at Momofuku Ssäm Bar back in 2006, or offering a version of cacio-e-pepe-esque "butter noodles" laced with miso-like fermented chickpeas when he opened Momofuku Nishi last year. Chang is hardly alone: In St. Louis, you'll find miso-ricotta ravioli at Sardella. A New York pop-up called Pasta Omakase offers dishes like tortellini in tonkatsu broth. The wildly popular Union Square udon spot, TsuruTonTan, serves a "truffle crème" version of its signature dish, tossed with a grating of Parmigiano-Reggiano.
Kengo Nakamura offers spaghetti with miso, as well as linguine with tomato and uni at Trattoria Nakamura-Ya in Las Vegas (making a point to use the Japanese name for sea-urchin roe). And uni pasta shows up again, mixed with caviar and chanterelle mushrooms, at Xiao Bao Biscuit in Charleston, South Carolina. (In fact, uni pasta has become so prevalent on restaurant menus, New York's Adam Platt recently deemed it "the fettuccine Alfredo of our postmillennial dining age.")
The Italian–East Asian connection certainly doesn't begin and end at noodles. "If you start digging into cuisines like classical Cantonese or Japanese, you see that it's really about the ingredient and not doing a lot to it," says Dale Talde, "and that plays into the ethos of the Italian mentality of cooking." At Massoni, which Talde just opened in Manhattan, he offers dishes like head-on fish cooked with ingredients that lean both Italian (Castelvetrano olives, capers) and Cantonese (ginger, scallion). "It eats like an Asian fish," Talde says, "but has accents of Italian." The chef also points to the restaurant's version of Bolognese sauce: "I keep thinking, it's the same exact dish as dan dan noodles, just without pickled mustard greens and Sichuan peppercorns in the soffrito."
Another big driver of chefs' willingness to combine these ingredients in such a freewheeling fashion is the ever-important need to give diners as much umami as possible. "When I eat pasta in Italy, in the sauce I can feel that same umami that I taste in ramen stock," Osaka says. "That taste often comes from aged and fermented ingredients, whether that's miso and soy sauce, or cheese."
Pasta Omakase's Angie Rito says she and her partner Scott Tacinelli were inspired to begin their fusion pop-up for a simpler reason: People really like this food. "Both cuisines now appeal to a wide audience, but separately," Rito says. "At their core, they focus on the same things — so it makes sense to mix them together."
Other combinations are more subtle, but no less effective, like the nori that Talde sneaks into Massoni's Caesar salad. "These interpretations are what make cooking fun," Talde says of his inclination to cross-pollinate as much as he can. "It's a natural progression of the way cultures mix."