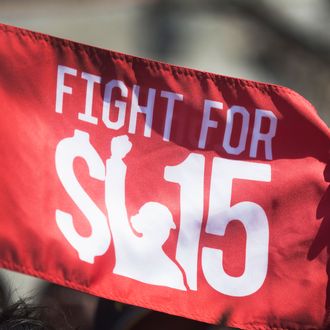 He's "made millions by stealing our wages," they say.
Photo: Scott Olson/Getty Images
With time ticking till his nomination hearing, the anti–Andy Puzder forces are coming out in full swing. On the heels of yesterday's survey that reported that Carl's Jr. and Hardee's have 50 percent more sexual-harassment claims than the industry average, Fight for $15 has now organized protests of Trump's labor secretary pick in some two dozen U.S. cities today.
Puzder's Senate confirmation hearing probably won't happen till February, but it sounds like the cooks and cashiers at CKE Restaurants are ready to march against their boss right now. New York's rally is scheduled for noon at the Labor Department's building in Soho, and several labor leaders and members of City Council have committed to attending. The group says protesters will be armed with a variety of signs saying, "CEO of the rigged economy."
In a press release, Fight for $15 explains that as head of the Labor Department, Puzder would be "charged with upholding many of the labor laws and regulations CKE routinely violated during his time as CEO." Besides objectifying women to sell burgers, Puzder has also been one of the loudest proponents of automating the fast-food industry, arguing machines "never take a vacation, they never show up late, there's never a slip-and-fall, or an age, sex or race discrimination case." Fight for $15 also points to another irony, which is that the Labor Department itself found that 60 percent of CKE restaurants have broken the Fair Labor Standards Act in the past seven years.

Puzder's allies are also coming out swinging for their guy. The International Franchise Association, on whose board Puzder sits, has asked its 15,000 members to sign a letter backing Trump's nominee. About 500 or 600 have agreed so far, a spokesperson tells Bloomberg, the biggest one apparently being Popeyes. Trump's team also released a statement bashing ROC United's claim about CKE Restaurants' sexual harassment: The survey was "paid for by unions and special interests opposed to Andy Puzder's nomination" and "is a flagrant example of 'fake news,'" it said. "ROC used leading questions and deceitful surveying tactics, such as posing as CKE corporate representatives, to fabricate results."