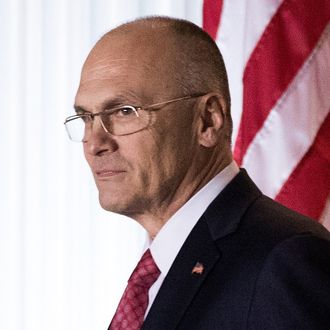 Uh oh.
Photo: Drew Angerer/Getty Images
More bad news for Trump's would-be Labor secretary: The "bottom of the pool" and the "worst of the worst," better known as the fun pet names Andy Puzder gives the workers he employs at Carl's Jr. and Hardee's, might be called to testify against him during his upcoming confirmation hearing. From the AP:

[Twenty-two] Senate Democrats are calling for Puzder's confirmation hearing Feb. 2 to include current and former workers who have complained of poor or illegal treatment at his restaurants. The workers' stories, the senators wrote, raise concerns about Puzder's "commitment to enforcing federal labor laws — the secretary of labor's chief responsibility."
By now, employees have called him "one of the worst fast-food CEOs" and "CEO of the rigged economy," insisted he's "not the person to protect American workers' rights," and reported workplace harassment at a rate 50 percent above the industry average. When earlier rumors claimed Puzder might bail because he's "not into the pounding he is taking," he tweeted out that he's "looking forward to my hearing." Put that claim down as dubious, but bet he's certainly regretting not installing that robot workforce.