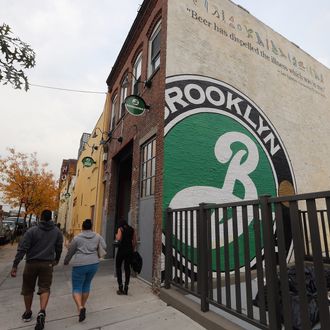 Going nowhere.
Photo: Mario Tama/Getty Images
Some good and bad news for New York's beerophiles: The good is that Brooklyn Brewery is staying put in the slick converted Williamsburg matzo factory it's called home since 1996. Co-founder Steve Hindy tells the Times that they were recently approached by the building's landlords and asked about extending the lease, which expires soon (in brewery years, anyway — 2025). That came as "a big surprise" around the brewery, and Hindy says they jumped on it because "people know we're here." So those pizza deliveries to the jam-packed tasting room can continue on North 11th Street indefinitely.

Bad news is this is a major step back for the Navy Yard's food hall. Last May, the brewery announced an ambitious move to a space in the yard. Renovations were supposed to wrap up in early 2018, and plans included opening "a truly massive beer garden" on the rooftop. (Visitors hoping to booze with that killer Manhattan backdrop will just have to brown-bag beer at the Brooklyn Grange.) The Times says Brooklyn Brewery's domestic sales have "slipped a little," so this is also definitely one way to save money. The brewery still operates a barrel-aging facility in the yard, and has brewed beers upstate in Utica for years.
The decision to bolt mostly just throws a wrench into the city's attempts to promote Building 77 as NYC's next exciting food hub, although partnerships with Mast Brothers, Russ & Daughters, and Brooklyn Roasting Company are all still a go. To nip any concerns in the bud, Brooklyn Navy Yard Development Corporation president David Ehrenberg says there's a deep bench of Brooklyn Brewery replacements: "We are very confident that we are going to find a fantastic food manufacturer to take that space."