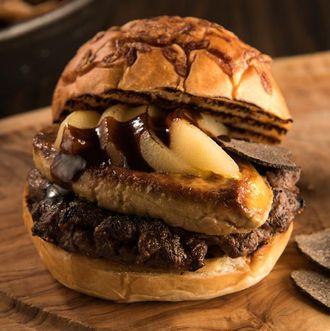 See the resemblance?
Photo: BLT Steak
The BLT restaurant brand, which agreed to stick a BLT Prime in the spot José Andrés abandoned in the new Trump International Hotel, has introduced a new burger at its two BLT Steak locations in Japan that pays homage (sort of?) to its landlord back in America's capital. Fittingly, the so-called Trump Burger is pretty yuuge, involves a couple shades of orange, and adds an absurd, overpriced ingredient just because it can. That would be the 3.5-ounce slab of foie gras, but there's also a 5-ounce filet mignon patty, plus Gruyère cheese, caramelized apple compote, shaved truffles, and a sauce made from port, balsamic vinegar, and ginger. It was rolled out just in time to celebrate the weekend's inauguration, assuming that was something people in Tokyo were hoping to fête.
Nothing about this item seems to be a joke, but per RocketNews24's read of the Japanese press release, BLT intended for the burger to literally look like the president, with an orange-y bun on top and apple slices angled to emulate Trump's notorious 'do. All depictions of Trump, including live images themselves, are very difficult to pull off to his liking, but outside of running that risk, the burger looks to be in the clear — the ingredients are cartoonishly luxurious, it sets customers back $50, and there are only three offered per day, making it far more exclusive than a Raoul's or Gramercy Tavern burger. Then again, fancy-schmancy food's not exactly Trump's preferred style.