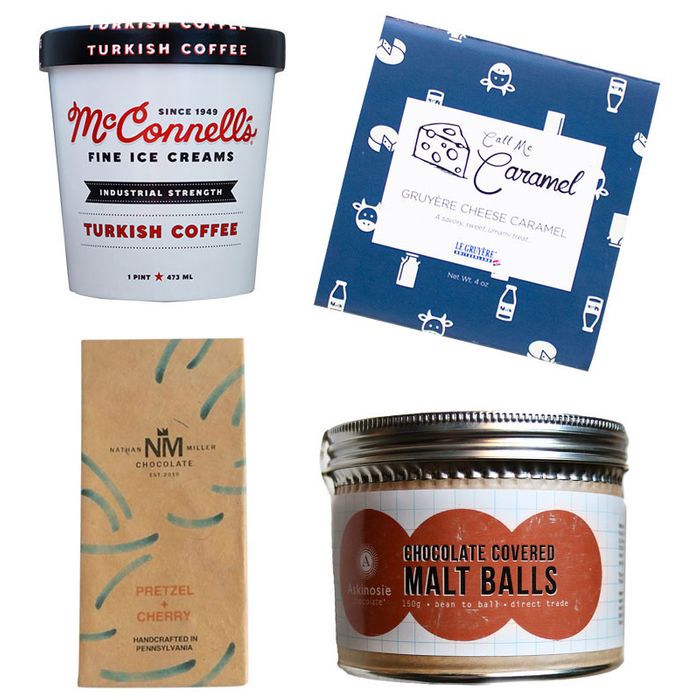 Whether you like it or not, Valentine's Day is coming. Even if you don't really care about the holiday, and just want to hole up together in your sweatpants with a bottle of wine, you'll probably want to get your better half something. This being Valentine's Day, that likely means something of the sugary sort. But don't get the same-old cheesy sweets. There's heaps upon heaps of excellent treats out there, from fudgy Brazilian brigadeiros to world-class cake doughnuts, all of which will impress much more than heart-shaped chocolates. Here, 18 to consider this Valentine's Day:
Think of these like a deluxe version of that classic movie-theater snack, Whoppers. A thick layer of slightly bitter dark chocolate is spun around a core of malt, an irresistible one-two punch.
This Sicilian spread tastes like concentrated cream of pistachio, doctored up with just olive oil, cane sugar, and a little bit of salt. There's no question that it's not cheap, but it's so good there's no way it'll survive the night.
If you've already done fudge and chocolate truffles, consider this Brooklyn's shop chewy, delicious brigadeiro. Condensed milk and cocoa powder are cooked down, rolled with butter, and then topped with various crunchy things. This 30-piece gift box from the Bushwick producer will nab you six flavors, like coconut, cinnamon pecan, coffee cardamom, and fresh mint.
While there's absolutely nothing wrong with a mug of Swiss Miss, the occasion calls for something a little bit more special. Ritual is one of the country's finest chocolate makers, and made with powdered 70 percent cocoa that delivers a robust chocolate flavor.
Photo: Jason Stemple/© Jason Stemple, All Rights Reserved
Needless to say, these are an upgrade over the peanuts you snag at your local Nuts For Nuts cart. Fancy Mammoth pecans are roasted with a little salt, then dressed in caramel, and coated in milk chocolate. Plus, you'll get a second bag to keep for yourself.
Marou makes heady chocolate using Vietnamese beans in Vietnam. Their award winning Lam Dong is ideal for your favorite chocolate evangelist: It's 74 percent cocoa, made with local beans cultivated by small farms, and both creamy and spicy.
This excellent creamery based out of Santa Barbara, where it's been operating since 1949, only recently made its pints available on the East Coast. You could get the potent Turkish coffee or rich chocolate almond brittle. Or you go all in with a pint of the month club, three pints for 3, 6, or 12 months.
In need of hard candy, but unwilling to settle for anything less than the best? Look no further than Boissier, which has been making candies in France for nearly 200 years. Packaged in a fancy tin, these bonbons come in a variety of fruit-forward flavors like apple, lemon, cherry, and more.
The Pennsylvania chocolatier actually has fun with its cocoa, making chocolate with buttermilk and in flavors like Rum Raisin and Cherry + Pretzel. Cover your bases with the Buttermilk Chocolate Collection, five bars including the Pretzel + Cherry, Everything (toffee, roasted almond, and candied ginger), and crunchy, crispy Salt + Wafer.
These are unlike any caramels you've had before. Made with gruyère imported from Switzerland, they're savory and nutty enough without overwhelming the caramel's natural sweetness.
Olive & Sinclair is arguably the South's chocolate maker of the moment. The Southerner in your life will be particularly appreciative of this brittle, made with cacao beans and nibs smoked in bacon-legend Allen Benton's smokehouse.
Get the best of both worlds: real-deal saltwater taffy, with a super chewy texture and discernibly salty flavor, flavored with bittersweet chocolate.
The Toronto company makes some truly great chocolate, but that's not all they do. If you need to feed a cookie monster, get their version of Piedmontese cookie called baci di dama, two hazelnut-butter cookies sandwiching a dark chocolate filling.
If you're shopping for a fancy restaurant lover and want to go the Valentine's-themed chocolate route, you'll be hard-pressed to find ones that are more attractive or better made those sold by Jean-Georges. You'll get creative flavors like tequila and citrus, milk and honey, and mojito.
Jeni Britton Bauer knows her ice cream, so you should trust her when it comes to your toppings: Get a jar of her toasted sugar caramel sauce, gussied up with sea salt, cream, and vanilla beans.
Photo: Sweetist and Will Engelmann
Who doesn't love doughnuts? Especially from Underwest, New York's undisputed king of fried dough rings. You can order its creations anywhere, in flavors like brown butter, dark chocolate, and its signature vanilla-lavender flavored Carwash. Get twelve of your choice, a couple bottles of red wine, and have the dinner of your dreams together.
The only thing that could be better than honey-butter is honey-maple cream, enhanced a little extra with butter, vanilla, and sea salt.
Who among us have not been guilty of eating chocolate chips straight out of the bag? Certainly the person you care most about will know just what to do with a can of semi-sweet chocolate chips smoked over alder wood.
If you buy something through our links, New York may earn an affiliate commission.