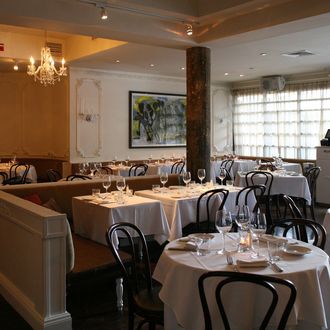 Not ever this calm.
Photo: Shanna Ravindra
A bartender at the Meatpacking District's infamously nightclubby brunch den Bagatelle has hit the restaurant with a discrimination lawsuit that claims he got punished for dressing "like a gay porn star." Terrance McCleveland says that's the phrase his manager wrote in the "explanation" section of a misconduct report filed in December of 2015. McCleveland alleges it was retaliation for going over that particular manager's head to request a schedule change directly from one of Bagatelle's owners. Per his suit, the manager gave the write-up to Bagatelle's HR department; for "nature of the violation," it cited McCleveland for "look[ing] like a f—t." Another spot noted a problem with the "Barbie T-shirt" McCleveland had worn to work that day.
McCleveland grants his "plain black T-shirt" was "a little smaller than usual," but had no mention of Barbie (also, again, this is Bagatelle). He says the manager put the finished report on the bar "for everyone to see," which further "embarrassed and humiliated" him. The only discipline the manager reportedly received was a weeklong suspension — proof Bagatelle's management didn't take the offense "as seriously as I did," McCleveland says. He adds he hasn't quit his job there because he can't make as much money elsewhere, but should he win this lawsuit, that will probably all change. His lawyer says they're demanding more than $1 million in damages.