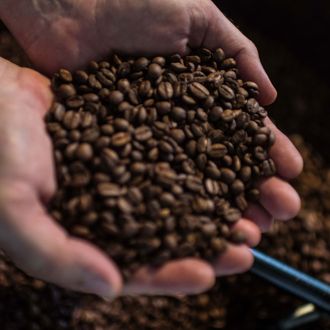 May be time to start hoarding beans in vacuum-sealed packs.
Photo: Christophe Simon/AFP/Getty Images
If your morning cup of joe is of the Folgers or Maxwell House variety, better prepare for the price to start climbing Starbucks–ward. (Don't worry — quality will remain exactly the same.) Bloomberg reports that futures are "on a tear" for robusta beans, the type used in instant coffee and a rapidly decreasing number of pre-ground supermarket bags. The reason is that Brazil — home to 25 percent of the world's robusta — is still mired in a drought, with apparently no end in sight. The top robusta-producing region, Espírito Santo, has seen "no significant rain" for about a month, forcing the government to start capping irrigation from area rivers. One major farmer estimates he pumped enough water for about 30 percent of his plants before getting cut off; as a result, he's predicting the next harvest will come up short by 200,000 pounds or more.

Folgers owner J.M. Smucker has already tacked 6 percent onto the retail price of packaged coffees, and others can't be far behind. The drought's timing almost couldn't be worse: Too much rain has damaged bean quality in Vietnam, the world's largest robusta producer, meanwhile, and a bad harvest is also expected in Indonesia. This has subsequently driven up demand for arabica beans, the more finicky species beloved by third-wave cafés, but this is having a domino effect on the price of these fancier beans, which is now spiking, too. According to Bloomberg, stockpiles worldwide have fallen for 13 straight quarters, leaving inventories at or near their lowest levels since 2000.