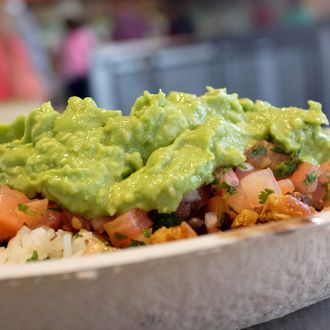 Chipotle is probably eager to avoid a guac price-gouging scandal right now.
Photo: Joe Raedle/Getty Images
A tariff on Mexican goods could be a massive headache for still-struggling Chipotle, analysts say in a new report out today. Instinet's Mark Kalinowski, probably the most respected analyst who studies the restaurant industry, crunched numbers on the fallout if President Trump taxed Mexican imports to pay for a border wall, and he writes the chain "likely would bear the biggest brunt" in the entire industry. "Our belief is that the company generally obtains about 70–90% of its avocados from Mexico, all of its limes, the majority of its jalapeños, less than half of its tomatoes, and small amounts of other items (e.g., cilantro)," he estimates. Prices for those items would all probably go up, and Chipotle requires a not-inconsiderable amount of each. Its lunchtime competitors would have to eat extra costs as well, but nobody would be hit like Chipotle, and it's at a place where customers might sour on even the tiniest hike in menu prices. Store sales already slipped 5 percent again last quarter, the fifth straight that the chain's reported declines.
While the 20 percent tariff White House press secretary Sean Spicer insinuated Trump favors is now being called just one "option" (and was maybe misunderstood in the first place), a tax on Mexican imports would nonetheless be a major added expense. Experts have guessed it would raise the retail price of each avocado by maybe a dime. And even if Chipotle gets a fantastic discount for buying in bulk, it eventually adds up; the chain uses almost 100 million pounds of avocados per year.

Chipotle has been loath so far to discuss what effect more expensive Mexican ingredients would have on its bottom line and, by association, customers' wallets. Spokesperson Chris Arnold is just calling it "purely speculative" for now, which is true, and also adds that lots of factors determine the price of their burrito bowls, sides of guac, and whatnot, but if anything impacts food costs "in material ways," they will "make that information available in a timely fashion."