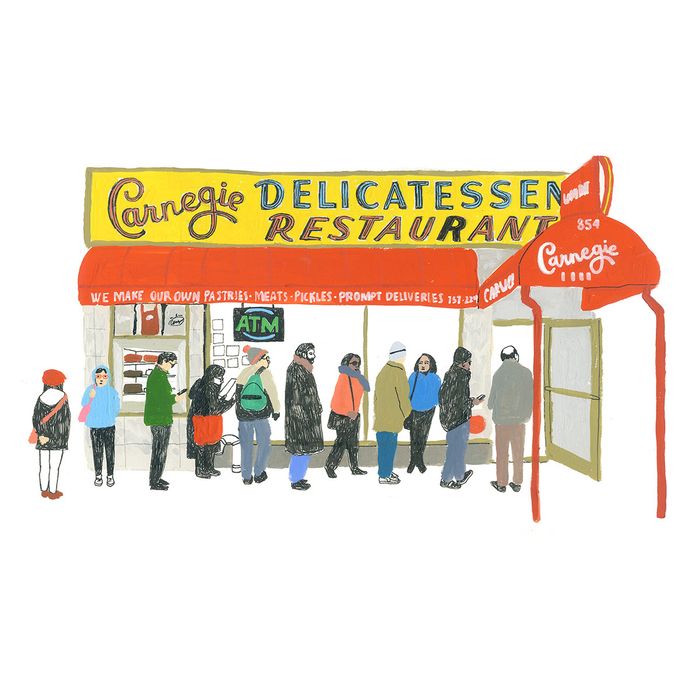 Loyal customers waited two hours.
For the first 30 years of its existence, Carnegie Deli was one of many purveyors of pastrami and corned beef on that stretch of Broadway, imitating the much more famous Stage Delicatessen. Then in 1976, Milton Parker bought the place with Leo Steiner, and launched what for many years was called the Pastrami Wars of Seventh Avenue. Both delicatessens flourished, and as their stature grew, so too did the height of their sandwiches — until they were towering Mordors of meat. But, everything eventually topples. The Stage closed its doors in 2012, and last Friday, so did Carnegie Deli.
On the eve of its closing, the lines stretched as they often did: down the block. Waits exceeded two hours for a table, but for the faithful, neither the freezing cold nor the wait could deter them from the sandwich. Inside, with the framed photographs of hundreds of celebrities — many dead, all much-aged — keeping watch, the atmosphere was somewhere between wake, lunch, and circus. Pastrami sandwiches arrived, ferried from the kitchen by the longtime waitstaff, and strangers settled next to each other to dig in for one last time.