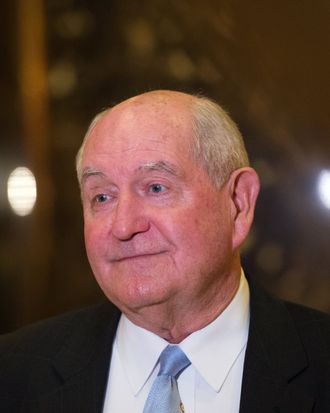 Consensus seems to be Trump could have done way worse.
Photo: Bryan R. Smith/AFP/Getty Images
Just before the inauguration, news leaked that Donald Trump's long-awaited pick for Agriculture secretary would be former Georgia governor Sonny Perdue. In a way, it was a relief to some people, since it's true that, unlike some of Trump's most controversial cabinet nominees, Perdue at least meets the minimum qualifications of the position: He grew up on a row farm in Georgia, got his doctorate in veterinary medicine, is no stranger to agribusiness, and even wore a red tractor tie to Trump Tower. Unfortunately, his nod hardly eliminates people's panic about unmitigated disaster at the 100,000-employee, $155 billion agency now that it's under Trump's control, especially since Perdue thinks they see pretty eye-to-eye on agriculture policy, and served on the president's agriculture advisory board.
In fact, industry watchers will keep a close eye on Perdue's moves — and these are the most pressing issues facing the food world right now.

1. Regulatory rollbacks. Politico reports Indiana power brokers with farming ties were getting "apoplectic" at the possibility of an unsympathetic pick. They now seem pleased with Perdue — a Southerner, alas, but also a "familiar Republican who's poised to roll back regulations." Back in December, he also told Politico the next Agriculture secretary's job was "ensuring that USDA branches across the nation are friendly environments for all farmers and ranchers," and if there's anything farmers and ranchers dislike, it's federally mandated rules. For example: Obama's USDA passed new regulations at the end of last year that expand small farmers' "protections against the most egregious retaliatory practices" used by big chicken companies like Tyson. Those rules can't go into effect until a 60-day comment period has passed, though, which means one of Perdue's first acts as secretary could be deciding whether to implement and enforce them.

2. Labor shortages. His 2006 efforts to crack down on illegal immigration by depriving undocumented workers — 40 percent of farms' workforce in certain states — of state benefits drew widespread protests across Georgia, and were called "some of the nation's toughest measures" at the time. It doesn't look like his views have evolved any, and it's fair to say Trump probably approves.

3. Ties to Big Industry. With the exception of Big Peanut, which was embroiled in a massive salmonella scandal at the time, Georgia was pretty friendly to food-industry interests during Perdue's two terms. He also took about $330,000 in contributions from Monsanto and other agribusinesses for his campaigns. The GMO lobby group Biotechnology Innovation Organization even named him its 2009 Governor of the Year. In his capacity as Food Policy Action's co-founder, Tom Colicchio isn't a fan:

Sonny Perdue's record on food policy is light on substance and poor on action. We need strong leadership to reform our food policy, promote affordable, nutritious and safe food, fight hunger, safeguard our lands and clean water, and protect our farmers and farm workers — not someone who is weak on oversight and in the pocket of Big Ag. We can and must do better than Governor Perdue.
4. Harm to the environment. Perdue has been called a climate-change skeptic, and the Environmental Working Group released a statement Wednesday night saying, "It's certainly hard to imagine that a former fertilizer salesman will tackle the unregulated farm pollution that poisons our drinking water, turns Lake Erie green, and fouls the Chesapeake Bay and the Gulf of Mexico." He fought the EPA's attempts under George W. Bush to enforce the Clean Air Act, and once wrote this in National Review: "Liberals have lost all credibility when it comes to climate science because their arguments have become so ridiculous and so obviously disconnected from reality." When Georgia was hit by an epic drought in 2007, his response was partly to summon lawmakers to a prayer vigil on the Capitol's steps.

5. Unhappy animals. In a sort of parting gift to animal-rights groups, Obama's USDA announced last week it was enacting stricter animal-welfare standards for organic producers. The new rules touch on a variety of things: more space for livestock, an end to the practice of removing beaks and tails, greater access to fresh air and direct sunlight. But trade groups like the National Chicken Council reject those regulations (and most others) as too onerous, and Republicans are already vowing to reverse them. Perdue is likely sympathetic to their cause because his track record while governor isn't what you'd call "pro-chicken": He helped factory-farm mecca Perdue Farms (no relation, shockingly) expand its Georgia operations by $155 million. It's possible his views have changed, but then again, the National Chicken Council wants him "confirmed expeditiously."
Another factor worth keeping in mind, as The Wall Street Journal's Kelsey Gee notes, is that Georgia's agriculture industry moved in a pretty decisive direction under his leadership — one that expanded factory farming considerably: